Separation anxiety in dogs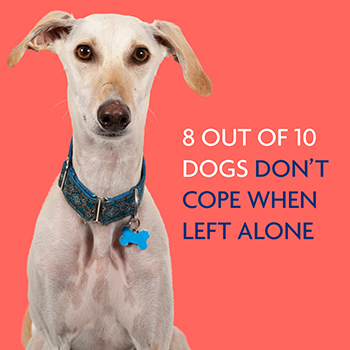 Often referred to as separation anxiety, separation related behaviour (SRB) is behaviour that only occurs when the dog is separated from their owner and in many cases is because they are feeling distressed. Telltale indicators include destructive behaviour, unwanted toileting or reports of howling/barking.
Other signs may not always be obvious (you won't be there to hear whining or see pacing). Taking the time to check for these signs by filming your dog when home alone will help you reveal any potential issues (even if you don't believe there to be any).
In fact, research suggests that 8 out of 10 of dogs will find it hard to cope when left alone, but half of these won't show any obvious signs, so it can be very easy for owners to miss. The good news though is that SRB is preventable.
Signs and symptoms of separation anxiety in dogs
You may know the obvious signs of separation anxiety in dogs, such as destroying furniture or barking, but did you know that there are other signs that you may be missing? Returning to a dog who is really happy to see you doesn't mean that he or she hasn't been suffering silently while you've been out...
The most common behavioural signs of separation anxiety in dogs are:
Other less frequent signs (that can be more easily missed) include:
Trembling, whining or pacing
Excessive salivation
Self-mutilation
Repetitive behaviour
Vomiting
How to tell that your dog is suffering from separation anxiety and not another issue
One of the main differentiating features between separation-related behaviour and other behavioural disorders with similar signs is that the behaviour is in response to the owner leaving and is displayed soon after their departure. Normally starting within 30 minutes, and often, within the first few minutes.
Even if you think your dog is happy left alone, every once in a while check for 'hidden' signs that your dog may be distressed by filming your pet whilst you're out.
Why your dog finds it difficult to cope when left alone
There are several reasons that dogs find it difficult to cope when left alone. Some dogs will be looking for things to do to entertain themselves whilst their owner is away, while others will be very distressed when separated from their owner. However, there are things that you can do...
Help your dog cope when left alone