We're counting down to our 200th anniversary
In 2024, the RSPCA is celebrating 200 years. In that time we've driven much-needed change for the animals who share our world. But there's still so much to do. Will you join us to create a
kinder future
?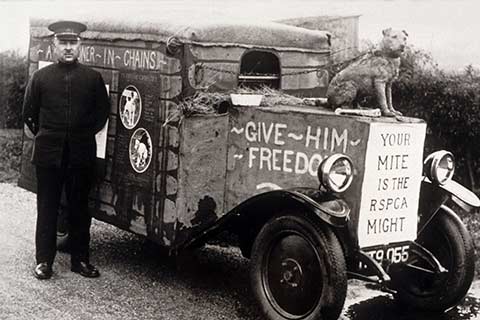 It all began in a coffee shop
Nearly 200 years ago a small group of people met in a London coffee shop, determined to change animals' lives. They created the society that became the RSPCA, sparking a movement that spread around the world.

Changing animals' lives has always been at the heart of the RSPCA. We put an end to bear baiting in 1835, and drove the Protection of Animals Act in 1911. We spoke up for wildlife with The Hunting Act in 2005, and helped transform lives with The Animal Welfare Act in 2006.

Together with our supporters, we have rescued millions of animals from harm and shown them the compassion they deserve. We've campaigned on their behalf and become the world-leading, science-backed voice for animals.
We believe that animal welfare is everyone's welfare
For nearly 200 years we've been changing minds, laws, industries and lives to create a better world for animals and people alike. But there's still so much more to do. Animals are facing bigger challenges than ever – through climate change, factory farming, war, and the cost-of-living crisis. As the world changes, we must keep changing too.
Find out why
.
So our 200th anniversary in 2024 won't just celebrate our rich history. We want to inspire millions more people to help us keep changing animals' lives now and into the future.
Join us for special events in your area
From
One Fun Day
to
50 Miles For Animals
, or our
RSPCA Young Photographer Awards
, we'd love you to be part of our celebrations throughout 2024. To make sure you don't miss out on our next steps for animals, and your local activities, leave us your email address – and be the first to know as new events are announced.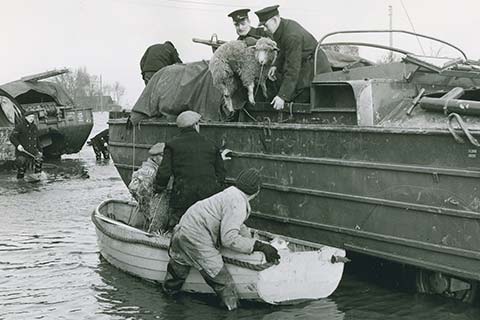 Sheep marooned after flooding and loaded onto a boat by RSPCA Inspectors and farm workers in 1953
The Society for the Prevention of Cruelty to Animals (SPCA) was founded, supporting new laws for animal welfare.

Bear and bull baiting are abolished. New laws ban cruelty to dogs and domestic animals. Better legal standards are brought in at slaughterhouses.

In 1838 James Piper, an SPCA inspector, died of injuries he received from trying to stop a cock-fight at Hanworth, Middlesex.

Queen Victoria gave permission for the SPCA to add 'Royal' to our name. We became known as the RSPCA.

The last bullfight in England took place in Islington, London. RSPCA Secretary John Colam and Police Superintendent Green stopped the event.

The Protection of Animals Act – inspired by RSPCA was passed. This important law tackled almost every type of cruelty to animals.

The RSPCA Fund for Sick/Wounded Horses was set up during the First World War providing 13 animal hospitals, 180 horse-drawn ambulances and 26 motor ambulances.

During the Second World War, 37 silver medals were awarded to our inspectors who risked their lives rescuing animals in dangerous bomb littered areas.

Ninette Gold and Pat Jones were trained as RSPCA 'Women Patrol Officers'. By 1959, there were 24 Women Patrol Officers, including two chief inspectors.

Testing cosmetics like soap and make-up on animals was finally banned in the UK in 1998.

The Hunting Act, which protects wild animals like foxes, deer and hares from being hunted by dogs, came into force.

The Animal Welfare Act was passed – the most significant change to animal welfare law in nearly 100 years.

It became compulsory for owners to microchip their dogs. Cat microchipping legislation was later passed in England in 2023.

Wild animals in circuses were banned in England – and in Wales in 2020 – after 50 years of campaigning.

The Animal Welfare (Sentencing) Act came into force, increasing prison sentences for animal cruelty from a max of six months to five years.

200th Anniversary! We've been a voice for animals for 200 years – and we won't stop working to improve the lives of animals any time soon.