Our executives
Our team of executives are responsible for the day-to-day leadership of the organisation. They each have their own specialist areas, and are led by the chief executive.
Chris Sherwood, chief executive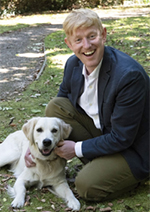 Chris joined us in August 2018 with more than 15 years experience in the charity sector.
In Chris' previous role, as chief executive of the relationship charity Relate, he was instrumental in moving Relate to a new organisational structure, developing its digital services and growing its campaigning voice.
In his role as our chief executive, Chris will continue to shape the debate about animals in society and how we can develop and maintain services that meet the needs of animals and the people who care for them.
Chris says:
"It's a huge honour to be appointed RSPCA chief executive. I am excited about the prospect of leading such a well-respected and supported organisation and advancing its mission to create a world that is kinder to animals."
Chris Wainwright, deputy chief executive; director of communications and external relations and interim director of income generation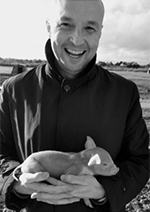 Chris joined the Society in 2016 from international NGO, WaterAid. Chris has over 20 years board level experience in the public, private and not for profit sectors. He has led multi disciplined teams in the senior civil service, a FTSE 100 company, and a US corporate communication consultancy.
At the RSPCA, Chris works extensively on the Society's strategy development, culture change and transformation agendas. He also leads directorates that encompasses all aspects of communications, marketing, income generation and external affairs.
He has a rescue cat called Misty.
Ray Goodfellow, chief legal officer
Ray is a solicitor with over 20 years experience in-house at the RSPCA. Ray now serves as the Society's Chief Legal Officer overseeing the legal directorate (which includes the Prosecutions Department).
Ray's team provides legal support to other departments. This work encompasses commercial contracts, charity law and advising on a diverse range of legal issues arising from the Society's activities.
He has an RSPCA rescue cat called Arthur.
Caroline Allen, chief veterinary officer
Caroline has recently taken up the position of chief veterinary officer having previously been London veterinary director for the charity for three years.
Caroline has 20 years of small animal veterinary experience across the sector- charity, independent and corporate practice and a track record of successfully leading practices through change and development. Caroline is an RCVS recognised Advanced Practitioner in Small Animal Medicine and also on the RCVS council.
She has a rescue Staffy called Tilly.
Dermot Murphy, chief inspectorate officer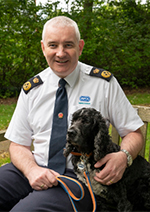 Dermot has been with the RSPCA for 25 years having joined as an RSPCA ambulance driver in 1994. He became an RSPCA inspector in 1999 and he has worked his way up through the charity and was assistant director of the inspectorate for four years before taking on this latest role where he is responsible for Inspectorate operations throughout England and Wales.
Dermot has experience in leading large field based teams, developing policy and responding to crisis such as flooding and animal disease outbreaks.
Dermot owns two rescue dogs, both cocker spaniels.
Patricia Williamson, director of people and culture (interim)
Patricia joined the RSPCA team with 30-years experience in HR and change management. Her career so far has included positions with Calor, Barclays and a directorship at Southern Cross Healthcare.
Patricia's strengths lay in project assignments with a focus on business change, organisational restructure. She has a proven track record in cost saving initiatives and workforce effectiveness programmes as well as employee engagement, motivation and up-skilling.
David Warren, director of finance
Carrie Irvine, director of field operations (interim)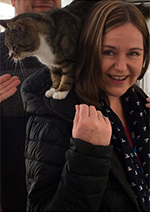 Carrie has over 30 years' experience working in the health and social care sector and operating within different regulatory frameworks across England and Wales. She started her career in the NHS working with people with long term mental health conditions and has since worked for a local authority, care providers in the independent sector and in the voluntary sector.
Carrie has held a number of senior leadership roles, including Executive Director of Operations for Scope, the large national disability charity and Chief Operating Officer for Ambito, an Independent provider of services for Adults and Children with learning disabilities.
She is also a Governor of a special educational needs school and an Independent member of an Audit and Risk Committee for the charity, Signhealth.
Carrie has a lifelong passion for animals and describes her role in the RSPCA as 'the perfect job'.
In her spare time she works hard to meet the demands of her menagerie of 24 animals, including her dog Tessa, a rather petulant rescue cat, two goats, chickens and Indian Running ducks! She is currently working hard to convince her partner that they should extend their brood to include Alpaca's; this remains a work in progress!