Our wildlife centres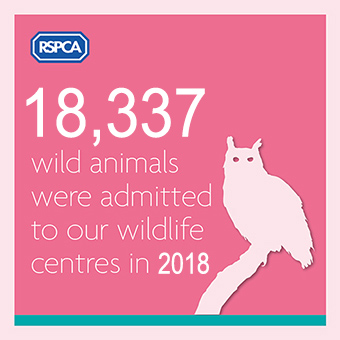 We have four wildlife centres:
Between them the centres took in 18,337 sick, injured or orphaned wild animals in 2018. Together, they provide specialist care for the rehabilitation of wildlife throughout England and Wales.
Find out more about:
Lots of the RSPCA animal centres and branches also take in sick, injured and orphaned wildlife, plus we work with a number of other wildlife rehabilitators to rehabilitate casualty wildlife.
Our wildlife centres are equipped with veterinary surgeries, isolation cubicles, orphan wards and a variety of paddocks, pools, pens and aviaries to accommodate the many species of wild animal they admit, from fox cubs to birds of prey.
RSPCA wildlife centre admissions consist of 76 per cent birds, 23 per cent mammals and one percent everything else! Hedgehogs were the most commonly-admitted species in 2012.
Can centres provide advice on the care of wildlife?
The wildlife centres, together with the wildlife department, have developed wildlife rehabilitation protocols, based on their knowledge, experience and detailed research. These describe the best husbandry (ways to care) for these animals and are updated as science and knowledge progress.
Wildlife rehabilitation is very tricky and best left to experts, so that the animals have the best chance of survival back in the wild. We would always recommend that if you find a wild animal that you think is injured or orphaned, you hand it to an experienced rehabilitator, or call us on 0300 1234 999.
Working at our wildlife centres
Wildlife assistant positions are advertised on our vacancies page, or in the local press. You can check for volunteering opportunities on our website, or by contacting your nearest wildlife centre.