Find or call a vet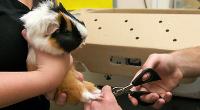 All pets need to be registered with a veterinary practice, where you can take your animal for routine health care and advice, as well as any emergency treatment.
Vet Help Direct is an online guide to help you to decide how quickly you should contact your vet.
Visit www.vethelpdirect.com.
Find a vet
All veterinary surgeons must be registered by the Royal College of Veterinary Surgeons (RCVS).
Find an RCVS accredited veterinary practice - visit : findavet.rcvs.org.uk/home/
Many vets, including Medivet, CVS UK Ltd veterinary group practices, Companion Care/Vets4Pets, provide health care packages. These can help to manage costs and ensure pets receive regular veterinary check-ups and preventative treatments. Talk to your vet and see if they offer a health care scheme.
Call a vet
PetGP is a 24-hour service, which works like an NHS Direct for pets, and anyone can call. It's staffed exclusively by UK-qualified veterinary nurses with years of experience.
You can pay upfront or have the call charged to your bill on a pay as you go basis, and the cost is typically less than an initial vet consultation.
Sign up as a Premium Member and enter RSPCA20 into the Coupon field to get a 20 percent discount. We'll also get a 20 percent commission for everyone who signs up as a Premium Member.
Visit pet-gp.co.uk for more information.
Animal welfare act
If an animal you own or are responsible for is suffering or in pain, you are required under the Animal Welfare Act to take them to a vet.
Visit our pet pages for more information and to find out how to provide for your pet under the five welfare needs.