Text
You can also download the Guide to remembering us in your Will.
In 1824, we made it our responsibility to protect and care for all animals, and never tolerate abuse. It's a promise to animals that we've worked hard to keep ever since - and one that thousands of people have helped us to deliver, by remembering us in their Will.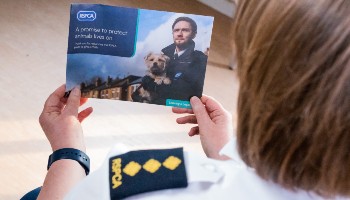 In fact, over half of our work is funded by people who have left us a gift in their Will, so these gifts are hugely important.
By deciding to remember us in your Will, you'll help our teams be there to care for and defend animals in need, adapting to any new challenges that we may face. You'll help create a future that's kinder to animals.
Getting in touch
If you have any questions about remembering us in your Will, we're here to help.
Please take a look at our frequently asked questions page or get in touch.
0300 123 0239
RSPCA, Legacy Team, Parkside, Chart Way, Horsham, West Sussex, RH12 1GY
Due to current circumstances and with restricted access to our head office there is a delay in processing posted communications, if you would still like to contact us this way it would be helpful to include an email address or phone number to enable us to respond more efficiently to any queries. We're sorry for the inconvenience.
You'll help create a future that's kinder to animals, like Geoff below.