Chelsea Flower Show: VIPs told Wildlife Friends can reverse nature's decline
VIP supporters gave a big green thumbs up to RSPCA calls to inspire a nation of gardeners to stem wildlife's decline - as the charity opened its first ever garden at the annual Great Spring Show.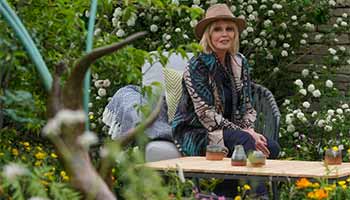 Wildlife expert and RSPCA vice president Steve Backshall greeted the likes of Sir Brian May PhD, Jo Whiley, Deborah Meaden, Anneka Rice, Dame Joanna Lumley, Imelda Staunton CBE and Jim Broadbent as they a paid a visit to The RSPCA Garden and learned about how gardens "hold the secret" to revitalising wildlife and natureacross the UK.
Jim Carter OBE, Gaby Roslin, Nick Grimshaw, Michaela Strachan, Angellica Bell and Brendan Cole were also VIP visitors to the RSPCA's stylish sanctuary for wildlife. Further visits were also made by One Show host Alex Jones, Patrick Grant, Ellie Harrison, Charlotte Hawkins, Louis Walsh, Daisy Desire and other VIP guests.
Photographs captured the visit of celebrity supporters as the RSPCA spread the message about protecting wildlife.
The RSPCA has teamed up with award-winner designer, Martyn Wilson, to create the sanctuary for wildlife and people alike. The garden celebrates how animals enrich our lives and how we can protect them.
But the garden opens at a troubled time for the nation's wildlife - with much-loved hedgehogs, red squirrels and tortoiseshell butterflies among the top ten most endangered UK species.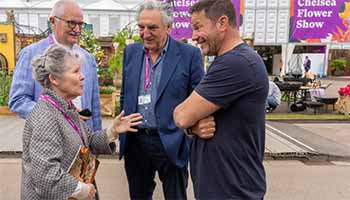 TV presenter Steve Backshall kicked-off the show at the RSPCA garden by warning future generations may only be able to see some of our much loved British wildlife in zoos without urgent action to save them.
He said: "We owe it to our children to ensure they still get to enjoy British wildlife like previous generations before them. The rapid decline of some of our most loved species like hedgehogs, red squirrels and some butterflies means some of our favourite British animals may soon only exist in zoos. This is terrifying, and should spur every single one of us into taking action."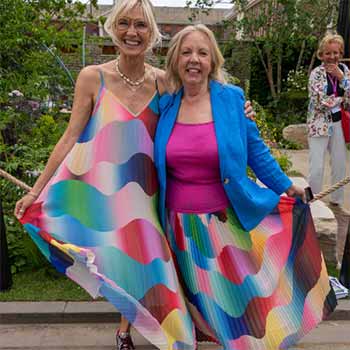 The garden aims to inspire green-fingered Brits to take small actions in their own gardens and community spaces to help troubled wildlife - and on Monday, celebrities and VIPs descended on the RSPCA garden to learn more.
About 40% of incidents reported to the RSPCA concern wildlife - and last year, the charity received calls about more than 100,000 wild animals in need - more than 11 every hour. image.png
There are about 23 million gardens in the UK and the area of all the gardens in England alone is more than four times the amount of land in nature reserves, so the RSPCA believes gardens are the secret weapon in saving our much-loved British wildlife from this devastating decline.
Chris Sherwood, RSPCA chief executive said: "It's been amazing to see so much interest in the RSPCA Garden, designed by the fantastic Martyn Wilson.
"To welcome so many VIPs to this incredible garden is testimony to how important our message is - wildlife is under threat, but every single one of us has the power to change that, and our gardens hold the secret.
"That's why the RSPCA has been recruiting hundreds of Wildlife Friends across the country - encouraging people to take small steps in their local areas to help protect the wildlife they share their communities with.
"From litter picks, to building a bird box or planting wildflowers, there's so many things we can all do to help - and that's the message we've been so proud to share with everyone at Chelsea. We can achieve so much together for animal welfare."
Features at the garden include:
A central water feature formed from recycled plastic waste referencing that the RSPCA rescued almost 4,000 animals trapped in or injured by litter last year. Providing movement, sound and a drink for wildlife, it symbolises the rescue-rehabilitate-release cycle of care given to thousands of animals at the charity's four specialist wildlife centres.
A raised wildlife-watching 'hide' made from UK-grown Douglas fir and larch.
A green roof and wall-mounted bee hotels designed to be a refuge in nature for an RSPCA volunteer after a busy shift.
Natural stone feature walls which house contemporary bird nesting boxes.
A modern corten steel interpretation of a 'dead hedge', with hidden hedgehog houses, creates habitats for birds, mammals and insects, whilst also recycling garden materials.
A bronze sculpture of two otters, by Simon Gudgeon, is inspired by otters in the charity's care.
Native trees and shrubs vital for birds and wildlife, planting is in a multi-layered naturalistic style in shades of green, whites and tones of blue with pollinator-friendly plants.
Garden designer Martyn added: "The RSPCA Garden is modern and stylish and shows that wildlife gardens don't necessarily have to be informal. I really hope people will be inspired to create their own wildlife sanctuary at home."
To find out more about the RSPCA garden at Chelsea and how you can become an RSPCA Wildlife Friend visit the Wildlife friendly garden web pages.
---