Favourite British wildlife could be consigned to zoos, wildlife star warns
TV presenter Steve Backshall today warned future generations may only be able to see some of our much loved British wildlife in zoos without urgent action to save them.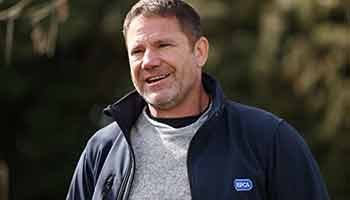 Speaking from The RSPCA Garden at the RHS Chelsea Flower Show, the wildlife expert called on the public to take action in their own neighbourhoods to help reverse the worrying decline in some of our favourite native species.
Polling reveals that hedgehogs, squirrels and butterflies are among the nation's top ten most beloved animals. Spiky garden dwellers, red squirrels and small tortoiseshell butterflies are also in the top ten most endangered UK species, according to the Natural History Museum.
RSPCA vice president Steve said: "We owe it to our children to ensure they still get to enjoy British wildlife like previous generations before them. But the rapid decline of some of our most loved species like hedgehogs, red squirrels and some butterflies means some of our favourite British animals may soon only exist in zoos. This is terrifying, and should spur every single one of us into taking action.
"We're reaching a critical turning point - but we can take positive actions now to help create the future we want for our children, our wildlife and our planet.
"Everyone can join the RSPCA to be a Wildlife Friend volunteer, picking up litter to prevent an animal getting injured, putting down a saucer of water for thirsty birds or making a simple bug hotel to give bees somewhere to rest.
"These tiny acts of kindness can collectively make a huge difference for the wildlife we share our communities with, and which we rely on for our survival."
The RSPCA has teamed up with award-winner designer, Martyn Wilson, to create a stylish sanctuary for wildlife and people alike. The garden celebrates how animals enrich our lives and how we can protect them.
About 40% of incidents reported to the RSPCA concern wildlife - and last year, the charity received calls about more than 100,000 wild animals in need - more than 11 every hour.
There are about 23 million gardens in the UK. The area of all the gardens in England alone is more than four times the amount of land in nature reserves so the RSPCA believes gardens are the secret weapon in saving our much-loved British wildlife from this devastating decline.
Martyn from Cheltenham previously visited an RSPCA specialist wildlife centre and took inspiration from its dedicated rehabilitation work in the design of his garden which includes:
A central water feature formed from recycled plastic waste is a reference to the RSPCA rescuing almost 4,000 animals trapped in or injured by litter last year (2022). Providing movement, sound and a drink for wildlife, it symbolises the rescue-rehabilitate-release cycle of care given to thousands of animals at the charity's four specialist wildlife centres.
A raised wildlife-watching 'hide' made from UK-grown Douglas fir and larch
A green roof and wall-mounted bee hotels designed to be a refuge in nature for an RSPCA volunteer after a busy shift.
Natural stone feature walls which house contemporary bird nesting boxes
A modern corten steel interpretation of a 'dead hedge', with hidden hedgehog houses, creates habitats for birds, mammals and insects, whilst also recycling garden materials.
A bronze sculpture of two otters, by Simon Gudgeon, is inspired by otters in the charity's care
Native trees and shrubs vital for birds and wildlife, planting is in a multi-layered naturalistic style in shades of green, whites and tones of blue with pollinator-friendly plants.
Steve visited The RSPCA Garden with rescue-dog Daisy in order to bring attention to the hazards litter poses to wildlife - with the RSPCA regularly treating seals who have got their heads trapped through ring frisbees discharged on beaches.
Evie Button, a wildlife specialist at the RSPCA, said: "We regularly see seals with frisbees round their necks cutting into their flesh, small animals like mice trapped inside bottles and foxes with their whole heads stuck in cans. Without help these animals face a slow and painful death.
"We can all help animals by choosing wildlife-friendly frisbee, taking our rubbish home with us, or carrying out a litter pick. All tiny actions which will make a big difference to the wild animals which bring so much joy into our lives."
Garden designer Martyn added: "The RSPCA Garden is modern and stylish and shows that wildlife gardens don't necessarily have to be informal. I really hope people will be inspired to create their own wildlife sanctuary at home."
To find out more about the RSPCA garden at Chelsea and how you can become an RSPCA Wildlife Friend visit the charity's Wildlife friendly gardening web pages.
---