Martyn Wilson, designer of The RSPCA Garden, describes how to make this traditional structure, useful for gardeners and wildlife alike.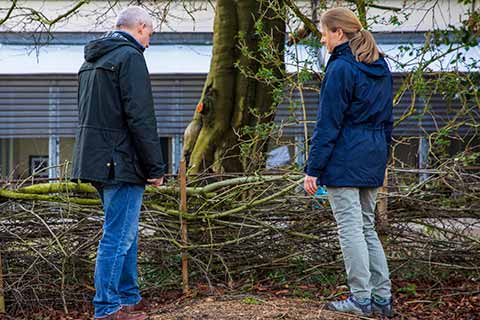 "We're often told that leaving piles of wood, stones or garden cuttings around is good for wildlife, And it's true that wild areas like these make great habitats. But what if, like me, you prefer your garden a bit tidier?

"A dead hedge is the perfect compromise. Made from upright stakes of wood and filled with horizontal prunings, it adds structure to your garden and becomes a feature in itself. Contrary to its name, it'll soon be teeming with life, providing habitats for many species of wildlife. Plus it recycles pruning matter that's too hard to compost, so you don't have to burn it or throw it away."
In
The RSPCA Garden
, the dead hedges sit inside bench-like open structures made from rust-effect, weathered steel. We've even included hedgehog boxes in the bottom of ours! If you'd like to have a go at making one in your garden, here's how.
You will need:
At least 6 sturdy stakes – 30cm or so taller than you'd like the hedge to be.
A mallet
Garden string to mark out the plot
Strong secateurs or loppers
How to make your dead hedge
First, choose where you'd like to put your hedge and how long you want it to be. Dead hedges can make great windbreakers around vegetable patches, flower beds or seating areas.
Mark out the area with string. The hedge should be around 50cm wide.
Add at least three stakes at regular intervals (around 50cm apart) on each side of the hedge – if they're offset they'll help keep more material in place. Once you're happy with the design, use the mallet to knock the stakes firmly into the ground.
This is now the frame or cage that will hold all your garden prunings and fill up to become a 'hedge'.
It's a good idea to put some longer, thicker branches and sticks in first, to create a stronger structure. Use your loppers or secateurs to cut them to the right length and place them inside.
Over time you can add in any woody cuttings you have. As they rot down, they'll add nutrients to the soil below. Keep topping up your hedge – but try not to disturb it.
"Dead hedges are clever ways to divide your garden or hide things like compost bins," says Martyn.

"Birds, insects, reptiles, invertebrates, amphibians and small mammals like hedgehogs will soon move in to make it their home or forage for food. You can even grow flowering climbers like clematis up the outside. That way you'll be welcoming pollinator insects too."
Join RSPCA #WildlifeFriend
There are loads of easy ways to get involved and help wildlife. Sign up as a volunteer and start making a difference today.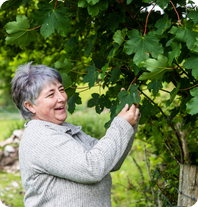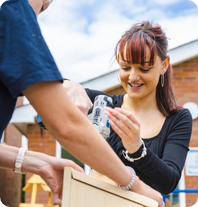 Find out more about protecting wildlife in your garden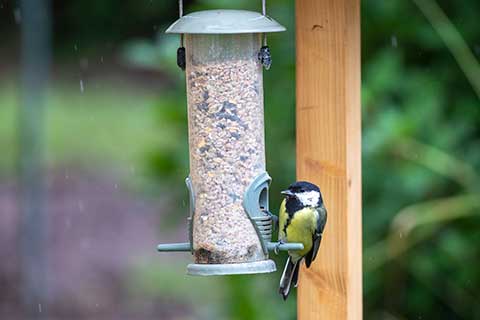 Want more advice like this?
To receive more wildlife and animal welfare advice straight to your inbox, sign up to our newsletter. We'll also keep you up to date with the RSPCA and what we do.