How hunting with dogs can cause lifetime injuries
Animal-lovers across the nation remain horrified that still, in today's society, there are people out there who think it's fun to go out and kill wild animals; whether that's chasing and killing foxes, placing bets on whether hares will outrun lurchers, and putting dogs down into badger setts to corner the frightened creatures. While everyone thinks about the awful deaths these poor wild animals endure, there's also a second victim in these vile bloodsports; the dogs themselves.
Non-accidental injuries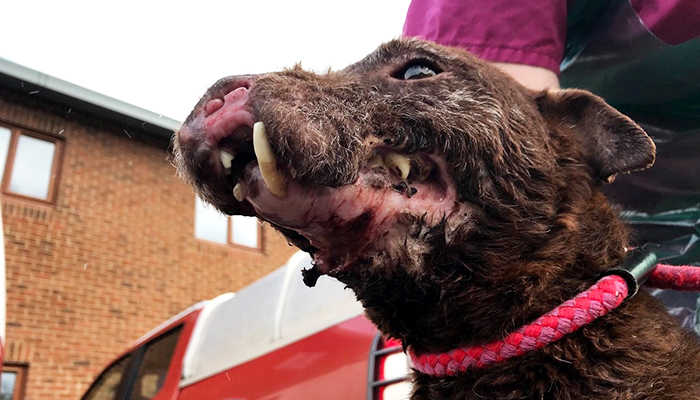 When terrier Sid wandered into a yard in Painscastle, Mid Wales, in October 2020, the people who found him were shocked to see half his nose missing and his bottom lip ripped from his muzzle. Sadly, the gruesome injuries - a classic example of 'non-accidental injuries' - are something we see all too often.
Sid's founders said:
We took Sid in and rushed him to a vet for emergency treatment. He had severe injuries to his nose, mouth, jaw and lips; all consistent with badger baiting. We believe he was acquired to engage in combat with badgers and foxes and will have inevitably been used in badger and fox digging.
The injuries to his lower jaw are typical of those we often see in these circumstances. He will have been pushed underground to scour setts and locate a badger before engaging with it and holding it in position while the hunters dig down. Badgers are large and powerful mammals that are generally quite close to the ground. They have strong jaws and will fight back by striking up and gripping the terrier from below, pulling at the dog's lower lip and jaw, and thus degloving the skin from the bottom jaw. Sid has also lost teeth, likely as a result of fighting with badgers on numerous occasions.
The injuries to Sid's muzzle are more than likely caused by a fox. Foxes will bite a dog's nose when engaged in combat, in the hope the dog will let them go, this results in multiple scarring and tissue damage, especially around the nose.
DIY vet treatment to hide illegal activity
We describe these injuries as 'non-accidental' because they are just that. If Sid hadn't been encouraged to fight with these animals he wouldn't have suffered these injuries. His owner would have been fully aware of the consequences of partaking in these illegal activities and is unlikely to have sought professional veterinary treatment for the injuries either.
Usually, we find those responsible for badger digging and hunting with dogs will seek veterinary supplies and medicines from the internet and attempt to patch their terriers up DIY-style at home. Ultimately they may well prescribe the wrong medications which only enhances the suffering of dogs just like Sid.
Dogs used and abandoned for hunting
We take in many hunting dogs who have been found wandering in fields or along rural lanes or have been abandoned with severe injuries.
Terriers like Sid who are missing half of their face; lurchers and sighthounds with broken legs after being hit by cars after chasing hares. All were left for dead by their so-called owners in order to avoid suspicion over their illicit hobbies.
Hunting can leave dogs scarred for life
Luckily for Sid, he was given the all-clear by vets and began his search for a new home. It didn't take long for him to capture the hearts of Dean and his family. They adopted the four-year-old and now dote on him. The happy lad loves curling up on Dean's lap and rummaging around his toybox to choose a toy to play tirelessly with. While he has to stay on the lead due to his background, he loves to run through the fields and play on the beach.
It's a happy ending for Sid. But the horrific non-accidental injuries that have left him scarred for life are something our Special Operations Unit (SOU) see all too often. This serious and organised animal cruelty is one of the reasons why we've long been campaigning for tougher sentencing under the Animal Welfare Act 2006.
New tougher sentencing laws to tackle animal abusers
Our officers have been investigating cruelty, neglect and deliberate abuse for decades, with prosecutions for the most serious offences sought in court under various pieces of legislation introduced to protect the UK's animals and wildlife.
One of the key laws we use is the Animal Welfare Act. If an individual is prosecuted for an offence under the Act then they can now face a maximum of up to five years in prison and/or an unlimited fine - as of June 2021 - up from the previous maximum of six months.
The previous sentencing guidelines simply weren't long enough for many of the meticulously planned crimes our SOU investigates each year. The team - responsible for proactive and intelligence-led investigations into large-scale, serious and organised animal crime - see some of the most unimaginable cruelty inflicted, deliberately, on animals. From dogs who are kept in pitch-black barns with no human interaction and forced to breed over and over and over again to produce lucrative puppies to cockerels who are pitted against each other to fight to the death, sometimes in bloody, barbaric battles that go on for over an hour.
The team also launches dozens of investigations into the persecution of wildlife every year. Not only do these offences see wild animals - such as badgers - suffering immeasurably, but also lead to the unnecessary suffering of the hunting dogs who are bred, trained and kept for one sole purpose; to go out and kill wildlife for their owners.
Purposeful harm to animals
Injuries like Sid's are prime examples of offences under Section 4 of the Animal Welfare Act - causing unnecessary suffering to an animal - and are aggravated by the fact that, by their very nature, they're non-accidental injuries. They're deliberately, knowingly and purposely inflicted. In fact, they organise when to meet, when to hunt and, ultimately, when their dog will be injured. Worried about alerting the authorities to their illegal endeavours, they won't take their injured dogs to a vet for treatment, instead choosing to self-treat at home with glue, staples and home remedies; extending the dog's suffering.
Report if you suspect cruelty
We need the public to help us crack down on this planned, deliberate, barbaric cruelty. We'll continue to rescue these animals and bring those responsible to justice, but we can't do it without you. If you know someone whose dog is often injured or has scarring like Sid's, please report your concerns to us.