Insure your bunny with RSPCA Rabbit Insurance
Insure your rabbit with insurance designed for your little bunny. With rabbit insurance from the RSPCA, you'll be ready to care for your rabbit when they need it.

For details about our products, view our product information page. Pet insurance provided by Pinnacle Insurance PLC.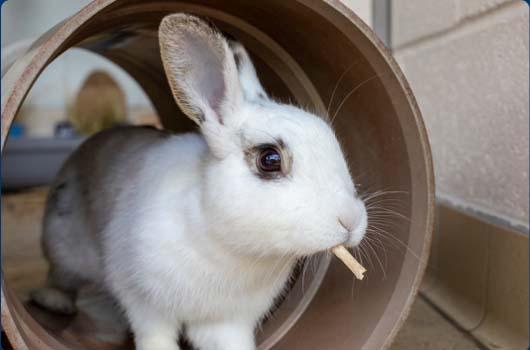 With pet insurance for rabbits from the RSPCA, you'll be ready to care for your bunny when they need it. There is one level of lifetime insurance for rabbits.

These are annual policies and if our pet insurer offers and you accept the renewal terms by agreeing to pay the premiums, you may claim the benefits covered by that policy for another year.
24/7 free virtual vet access


Pay monthly at no extra cost


Manage your claims and policy online
£1,000
Vet fee cover
£500
Complimentary treatment
£500
Physiotherapy
£250
Finding your rabbit
This lifetime policy is available for rabbits for up to £1,000 every 12 months. If you reach the limit in any policy year, you will need to pay for any treatment costs over this amount. If the policy is renewed at the end of each policy year, the limit becomes available again for the next 12 months. Pre-existing conditions are not covered.
Please note: you must be able to afford to pay the yearly premiums, which increase at renewal based on your pet's age, claims history and other costs such as enhancements to and inflation costs of veterinary treatments.

Your premiums are likely to go up each year; there is no limit to premium increases and these could be significant to you each year and over the policy's lifetime. If a claim is paid out on your policy, your premium could double at renewal.
Frequently asked questions
Does it matter how old my rabbit is?

Yes, there are age limits for taking out a new policy. But if you insure your pet before them and renew every year without a break in your cover, RSPCA Pet Insurance will insure them as they age.

The age limits for new policies are:
· Rabbits: From 8 weeks up to their 5th birthday

Do I have to keep my pet vaccinated?

Yes, you need to keep your rabbit's vaccinations up to date in line with your vet's advice. Our pet insurer will not pay a claim resulting from an illness your bunny should have been vaccinated against.

If I need to make a claim, can you pay my vet directly?

Yes, RSPCA Pet Insurance can pay your vet directly if you are happy for them to do so. Before you get treatment, ask your vet if they are willing to complete the claim form and send RSPCA Pet Insurance any supporting information they will need to assess your claim.
RSPCA Trading Ltd is an introducer appointed representative of Pinnacle Insurance plc. Pinnacle Insurance plc is authorised by the Prudential Regulation Authority and regulated by the Financial Conduct Authority and the Prudential Regulation Authority (register number 110866). Registered Office: Pinnacle House, A1 Barnet Way, Borehamwood, Hertfordshire, WD6 2XX. RSPCA Pet Insurance is a trading style of and arranged, administered and underwritten by Pinnacle Insurance plc.

RSPCA Trading Ltd and Pinnacle Insurance plc are not part of the same corporate group. The RSPCA name and logo are trademarks of the Royal Society for the Prevention of Cruelty to Animals (RSPCA) and used by Pinnacle Insurance plc under licence from RSPCA Trading Limited, which pays all its taxable profits to the RSPCA. The RSPCA is a registered charity number 219099 helping animals throughout England and Wales.