Husky
The Siberian husky (also known as the Arctic husky) is thought to originate in East Siberia, where puppies were bred to become long-distance, sledge-hauling dogs by the Chukchi, who also welcomed them into their families.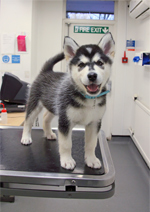 Because of their background, many people believe that husky puppies grow into dogs who love to be around people. However, this will very much depend on the upbringing of each husky pup - every husky is different. Here's more about huskies and what to think about if you're buying one.
Buying a Husky puppy
If you're thinking of buying a husky puppy, think carefully about the commitment you'll be making. In particular, remember:
A small husky puppy will soon grow into a large adult dog, who'll need plenty of exercise and take up lots of room.
Grooming and shedding - fluffy husky puppies are similar to the huskies you might have seen on the television pulling sledges across the icy tundra. Remember, while a husky's fur is ideal for keeping them warm in the snowy Arctic if you buy one in the UK you need to be prepared to spend a lot of time grooming and hoovering too!
Training and socialisation - like any breed, husky puppies will need lots of training and proper socialisation so that you can handle them when they grow into strong adult dogs.
Still thinking of buying a husky pup? Use our Puppy Contract and Puppy Information Pack to make sure you're getting a healthy, happy puppy. It's also a good idea to get pet insurance for your new husky friend to help with any unexpected bills.
Adopt a Husky from the RSPCA
Alternatively, why not take a look at the Huskies in our care? Before going to a new home, all our dogs are:
When searching for dogs in our care, you can choose to filter by breed and age. If there are no Huskies or other breeds suitable for your family, you can sign up for email alerts so that you're the first to hear about any new arrivals.
Could you offer a forever home to a dog or puppy in our care?