RSPCA's Chelsea garden wins honour from RHS judges
The RSPCA Garden at the 2023 Chelsea Flower Show has picked up a prestigious silver-gilt medal from the judging panel, as it spreads an inspiring message about reversing wildlife decline.
The animal welfare charity teamed up with award-winning garden designer, Martyn Wilson, for the Great Spring Show, to create a stylish sanctuary for wildlife and people alike; with funding kindly provided by Project Giving Back.
The garden celebrates how animals, in particular wildlife, enrich our lives and showcases the small steps people can take in their own gardens and community green spaces to protect them.
About 40% of incidents reported to the RSPCA concern wildlife - and last year, the charity received calls about more than 100,000 wild animals in need - more than 11 every hour.
Martyn - from Cheltenham - took inspiration for the garden from a visit to an RSPCA specialist wildlife centre in Taunton; where many of the animals rescued by the charity are rehabilitated before being returned to the wild.
This morning (23 May), RHS judges at the Show announced the result - handing out Gold, Silver-Gilt, Silver and Bronze medals to the 36 gardens at the Showground this year - and the RSPCA was "absolutely delighted" to scoop the silver-gilt gong.
Martyn said: "It's a real honour to pick up a silver-gilt medal for this garden and for the RSPCA - which is such a great way for the charity to kick-off the countdown to their 200th anniversary celebrations next year.
"Animals were at the heart of my design for this garden. I'm a passionate advocate for wildlife, and the RSPCA's tireless work in recruiting Wildlife Friends to help them is so important.
"This garden was all about inspiring the public to do little things in their own gardens and communities to help wildlife. When planning the garden, I saw first hand on a visit to the RSPCA West Hatch wildlife centre the incredible rehabilitation work the charity's team carries out, from injured seals to poorly hedgehogs, and everything in between.
"But the RSPCA can't help all wild animals themselves. And that's why I was so proud to create a sanctuary garden which is full of ideas people can easily recreate at home, whatever space they have."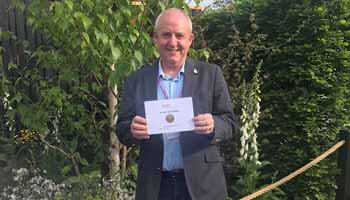 A host of VIP visitors spent time at the garden during the event - but the RSPCA was particularly delighted with a visit from King Charles III.
Martyn added: "It was such an honour to welcome King Charles III to The RSPCA Garden."
The RSPCA has strived to make its garden as inclusive as possible beyond the Royal Hospital Chelsea grounds. In what is believed to be a world first, the public can enjoy a 3D immersive tour of every part of the garden from the comfort of their own home, wherever they are in the world.
After the show, the garden will be relocated to RSPCA Stapeley Grange in Cheshire, one of the charity's wildlife rehabilitation and education centres, where it will provide sanctuary to people and animals for years to come.
The awards are not yet over, however - with voting for the BBC / RHS People's Choice Award getting underway today (23 May). The public can vote for their favourite garden at the Show - including for The RSPCA Garden in the Sanctuary category.
Voting closes for all gardens on Thursday at 7pm, with the winners announced on Friday evening.
Martyn added: "The RSPCA Garden is all about inspiring the public; and we hope many visitors to the Show and those watching the action from home will choose to support us with their votes for the coveted People's Choice Award.
"I want as many people as possible to enjoy and experience the garden - and the 3D immersive tour on the RSPCA website is a great way for everyone to enjoy the sanctuary, and learn more about the little things we can all do to support wildlife and nature."
A plant list showcases the trees, shrubs, ferns, grasses and bulbs that make up the RSPCA garden, while features include:
A central water feature formed from recycled plastic waste is a reference to the RSPCA rescuing almost 4,000 animals trapped in or injured by litter last year (2022). Providing movement, sound and a drink for wildlife, it symbolises the rescue-rehabilitate-release cycle of care given to thousands of animals at the charity's four specialist wildlife centres.

A raised wildlife-watching 'hide' made from UK-grown Douglas fir and larch

A green roof and wall-mounted bee hotels designed to be a refuge in nature for an RSPCA volunteer after a busy shift.

Natural stone feature walls which house contemporary bird nesting boxes

A modern corten steel interpretation of a 'dead hedge', with hidden hedgehog houses, creates habitats for birds, mammals and insects, whilst also recycling garden materials.

A bronze sculpture of two otters, by Simon Gudgeon, is inspired by otters in the charity's care

Native trees and shrubs vital for birds and wildlife, planting is in a multi-layered naturalistic style in shades of green, whites and tones of blue with pollinator-friendly plants.
RSPCA chief executive Chris Sherwood said: "We are all absolutely delighted and so proud that our garden has been given such a prestigious honour by RHS judges.
"When at the Chelsea Flower Show, I saw first hand how passionate people were to discuss the future of British wildlife, and what they can do to help.
"Martyn created a stunning, stylish sanctuary that perfectly showcased so many amazing ideas of how we can help wildlife in our own gardens and green spaces. From a wildlife observation hide, to nesting boxes, wildlife friendly plants, and dead hedges hiding cosy hedgehog boxes, it is a true haven for wild animals and I cannot wait to see it at its new home at our fabulous Stapeley Grange Wildlife Centre.

"I'm also so proud that our immersive, online 3D tour of the garden will make access to this amazing sanctuary available to everyone online.
"From litter picks, to building a bird box or planting wildflowers, there's so many things we can all do to help - and that's the message we've been so proud to share with everyone at Chelsea. We can achieve so much together for animal welfare."