The RSPCA Garden plant list
A full list of the beautiful plants that were in our garden at the RHS Chelsea Flower Show.
Our nation's wildlife is under threat
Together, we have the power to change that! Take our gardening wildlife warrior pledges today to help protect and encourage wildlife in your green space.
Betula albosinensis 'Fascination'
Betula utilis var. jacquemontii
Hedges, topiary and shrubs
Corylus avellana 'Rode Zellernoot'
Sambucus nigra 'Black Lace'
Viburnum plicatum 'Watanabe'
Matteuccia struthiopteris
Polystichum setiferum 'Herrenhausen'
Deschampsia cespitosa 'Pixie Fountain'
Camassia leichtlinii 'Semiplena'
Actaea simplex 'Brunette'
Anthriscus sylvestris 'Ravenswing'
*Aquilegia vulgaris var. stellata 'Black Barlow'
*Aquilegia vulgaris var. stellata 'White Barlow'
Aruncus dioicus 'Kneiffii'
Asarum europaeum AGM
Astrantia major 'Alba'
Astrantia major 'Roma'
Brunnera macrophylla 'Betty Bowring'
Brunnera macrophylla 'Jack Frost' PBR AGM
Brunnera macrophylla 'Mister Morse' PBR AGM
Cardamine pratensis
Cenolophium denudatum
Chaerophyllum hirsutum 'Roseum'
Cornus canadensis
*Dianthus carthusianorum
*Digitalis purpurea f. albiflora
Epimedium x versicolor 'Sulphureum'
Epimedium x youngianum 'Niveum'
Epimedium x rubrum
Erigeron karvinskianus
*Euphorbia amygdaloides var. robbiae
*Euphorbia palustris
*Geranium phaeum 'Raven'
*Geranium phaeum 'Samobor'
*Geranium pratense 'Mrs Kendall Clark'
*Hosta 'Devon Green'
*Iris sibirica 'Tropic Night'
Kirengeshoma palmata
Lamium galeobdolon
Lychnis flos-cuculi
Lychnis flos-cuculi 'White Robin'
Myrrhis odorata
Persicaria bistorta 'Superba'
Polygonatum x hybridum
*Ranunculus aconitifolius
*Ranunculus acris
Rodgersia 'Bronze Peacock'
Rodgersia pinnata 'Superba'
Rumex hydrolapathum
Sanguisorba tenuifolia var. alba
Silene fimbriata
Tellima grandiflora 'Forest Frost'
Thalictrum 'Elin'
Thalictrum flavum ssp. glaucum
Trillium cuneatum
Uvularia grandiflora
Valeriana officinalis ssp. sambucifolia
* The plants marked with an asterisk may be toxic to pets so are best avoided in a pet-friendly garden. If you're concerned your pet may have eaten toxic plants, always see your vet.
Become a gardening wildlife warrior
Take our quiz to find out how friendly your green space is for local wildlife. Then, take a pledge to welcome more wildlife into your garden, no matter what size.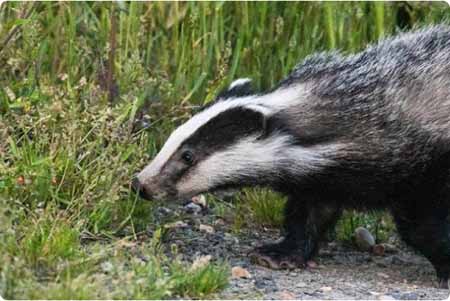 Meet our wildlife warriors who have taken the wildlife protection pledge!