3D tour of RSPCA Chelsea Flower Show Garden thought to be world first
The RSPCA has thrown open the gates of its Chelsea Flower Show garden to everyone with a 3D immersive tour of The RSPCA Garden - thought to be a first for the world-famous event.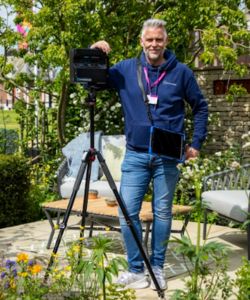 Visitors can guide themselves around a 3D version of the stunning wildlife garden - similar to Google Street View.
Virtual attendees can climb the stairs of the two-storey bird hide and gaze into the beautiful water feature, and peep into a wall of bird boxes, all without leaving the comfort of their homes.
RSPCA chief executive, Chris Sherwood, said: "Our garden has been made possible with funding from Project Giving Back and we want it to be as accessible as possible. Our 3D immersive tour means everyone can visit for their own unique, access all areas tour, at the click of a button or a swipe of their finger.
"We've got a lot of great videos, tips, beautiful animals and maybe even a famous face or two hiding in the 3D immersive tour for people to find."
TV presenter Steve Backshall kicked off the Show at the RSPCA garden by warning future generations may only be able to see some of our much-loved British wildlife in zoos without urgent action to save them.

About 40% of incidents reported to the RSPCA concern wildlife - and last year, the charity received calls about more than 100,000 wild animals in need - more than 11 every hour.
Chris added: "We all know that wildlife is in serious decline and the way we are going to change that is by encouraging as many people as possible to take action.
"We want everyone who sees our garden at Chelsea to be inspired to become a Wildlife Friend, carrying out small acts of kindness like creating a hedgehog highway through their garden, putting out saucers of water for thirsty birds or picking up litter which can be a deadly hazard for our feathered friends."
The RSPCA Garden is a stylish sanctuary for wildlife and people alike, celebrating how animals enrich our lives and highlighting how we can protect them.
The garden has already picked up a prestigious silver-gilt medal from the judging panel, as it spreads an inspiring message about reversing wildlife decline.
It has been designed by Martyn Wilson and is generously funded by Project Giving Back. The garden will be relocated at the end of the event to RSPCA Stapeley Grange in Cheshire, one of the charity's wildlife rehabilitation and education centres, for visitors to enjoy the living legacy for years to come.
Chris Packham, president of the RSPCA, added: "I'm so excited that the RSPCA has opened up the garden to visitors beyond the gates of Chelsea by harnessing the latest technology to create a 'digital twin' for people to tour online.
"It's great to see historic charities like the nearly 200-year-old RSPCA and the RHS - embracing digital advances to make gardens more accessible for those with mobility issues, neurodiverse people who may struggle with crowds and those who cannot get to the show.
"At the click of a button, visitors will be able to wander around The RSPCA Garden, find out more about the stunning plants, the amazing water feature inspired by the RSPCA's unique rescuing animals, climb to the top of the bird hide to see the view and get some great advice on how to create their own wildlife haven in their neighbourhoods."
Martyn from Cheltenham, visited an RSPCA specialist wildlife centre and took inspiration from its dedicated rehabilitation work in the design of his garden which includes:
A central water feature formed from recycled plastic waste is a reference to the RSPCA rescuing almost 4,000 animals trapped in or injured by litter last year (2022). Providing movement, sound and a drink for wildlife, it symbolises the rescue-rehabilitate-release cycle of care given to thousands of animals at the charity's four specialist wildlife centres.

A raised wildlife-watching 'hide' made from UK-grown Douglas fir and larch

A green roof and wall-mounted bee hotels are designed to be a refuge in nature for an RSPCA volunteer after a busy shift.

Natural stone feature walls which house contemporary bird nesting boxes

A modern corten steel interpretation of a 'dead hedge', with hidden hedgehog houses, creates habitats for birds, mammals and insects, whilst also recycling garden materials.

A bronze sculpture of two otters, by Simon Gudgeon, is inspired by otters in the charity's care

Native trees and shrubs are vital for birds and wildlife, planting is in a multi-layered naturalistic style in shades of green, white and tones of blue with pollinator-friendly plants.
It took two hours to scan the garden when it was complete and then it was uploaded into the RSPCA website along with additional pieces of content such as videos, photos and the famed Chelsea planting list.
Nick Johnson, a director at Immersive3D, based in Kent, said: "We are very proud to be working with the RSPCA to create, what we believe is the first-ever virtual tour of a garden at The RHS Chelsea Flower Show.
"Unlike a video tour, a 3D scan creates a 'digital twin' of the garden on the RSPCA website where people can take themselves around a tour rather than following a predetermined path. Visitors can visit the parts of the garden which interest them, and click to see videos, blogs and other content.
"This means everyone can access and enjoy this wonderful project."
Garden designer, Martyn Wilson, added: "It's brilliant that this garden will live on both physically as a sanctuary for people and wildlife at RSPCA Stapeley Grange in Cheshire, but also digitally too.
"I hope people will take pleasure in visiting the garden both in person and online and are inspired to help wildlife in their neighbourhoods."
The RSPCA Garden was generously funded by Project Giving Back, a unique grant-making scheme that supports UK charities to reach new audiences through a fully-funded garden at RHS Chelsea Flower Show. To take the 3D tour visit the website.
Voting is now underway for the BBC / RHS People's Choice Award. The public can vote for their favourite garden at the Show - including for The RSPCA Garden in the Sanctuary category.
Voting closes for all gardens on Thursday at 7 pm, with the winners announced on Friday evening.
---