Stop puppy imports
Puppy breeding has long provided irresponsible and illegal breeders to get rich with little regard to the welfare of a mother and her puppies. However, with a sharp increase in demand and a struggling UK market, puppy imports from other countries are now satisfying the public desire for new pets.
We want to see the end of puppy imports, and the UK Government does too
Ending the puppy trade is no easy task but thanks to your support, we're so close to change. Since our campaign launch in 2020, thousands of you have taken action and the UK Government is listening. We were delighted when the Government launched its recent action plan for animals, which aims to keep the United Kingdom at the forefront of animal welfare.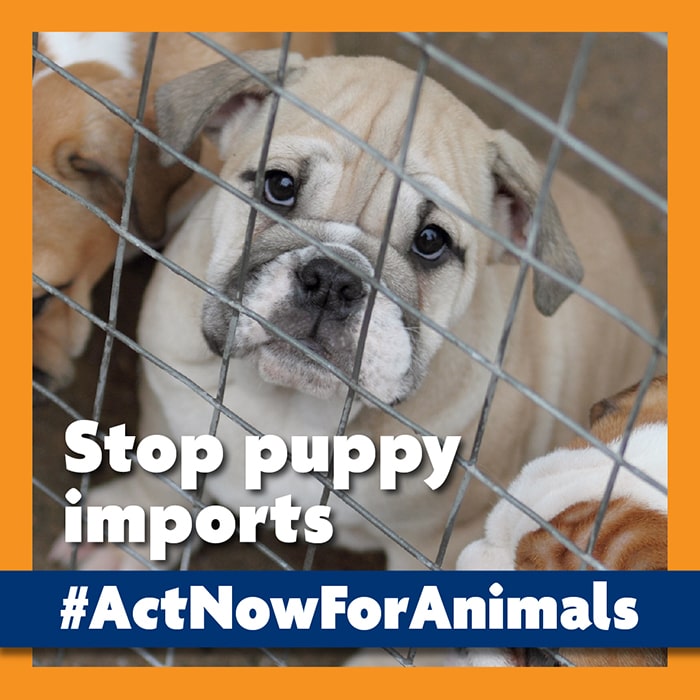 As part of the new Animal Welfare (Kept Animals) Bill, the UK Government intends on making changes such as:
Restricting the amount of puppies and dogs imported
Allowing both the UK and Welsh Governments to ban the import of dogs with cropped ears as well as pregnant dogs
These changes will also encompass our proposed recommendation that the UK Government raise the age of imported dogs. This solution makes enforcement easier as adult dentition will allow the dogs to be properly aged, and keeping puppies with breeders for longer will reduce sales as dogs begin to lose their "cute factor".
Your help could give greater protection to the public when purchasing a puppy, and help us eliminate irresponsible breeders and sellers.
#ActNowForAnimals with the Kept Animals Bill
Will you email your MP to make sure they support the crucial Kept Animals Bill? By joining us to #ActNowForAnimals, you'll not only be standing up for puppies, but also supporting the primates and farm animals that are also represented in this vital legislation.
Pandemic puppies have encouraged illegal trade
Shortly after the UK-wide lockdown began in March 2020, the interest in getting a puppy skyrocketed. Suddenly, prices for specific dog breeds doubled and the UK market struggled to keep up. With huge profits to be made, this imbalance provided ample opportunity for people acting illegally and irresponsibly to get rich, import puppies and take advantage of innocent pet buyers.
With more time at home and isolation creeping in, many people turned towards pets as a way to get outside, combat loneliness, and welcome an additional furry family member during a distressing time.
Puppy imports have increased
In October 2020 alone, 5,287 Intra Trade Animal Health Certificates (ITAHC) were issued - the highest ever for commercial dog and puppy imports. ITAHCs are certificates that require a vet signature to allow an animal to be legally imported - each certificate could contain up to 150 puppies. Concerningly, thousands more have been issued since Coronavirus began. In addition, we fear that many more puppies are being smuggled into the country illegally and younger than the 15 weeks of age set by law. Better enforcement is clearly needed.
From 2020 to 2021, there has been an 11% increase in commercially imported dogs, despite the cost of dogs being sold in the UK reducing since the height of the pandemic. This worrying statistic shows that there is no sign of dog imports reducing yet, putting more helpless dogs and innocent families at risk.
Suspect an illegal puppy dealer? Call 0300 1234 999.
More people are willing to buy smuggled puppies than you think
New research discovered that a shocking 38% of people said they would buy a dog smuggled from another country.* We're worried about the amount of false advertising and lack of awareness around imported pets, but we're also getting more concerned about the number of innocent buyers at risk of buying a poorly puppy.
Sadly, buying an imported pet, especially one that has been smuggled, could cost thousands in vet fees and even more in emotional distress. Poor breeding and rearing can result in hidden risks such as lifelong illness, suffering and premature death. These could all be on the cards, along with certain heartache.
Imported puppies can appear appealing to buyers
People may be attracted to imported animals because:
They can be cheaper and easier to buy
They might be misled with information about the animal's background and welfare
They may think they are helping to rescue an animal from poor conditions
They are unaware of the hidden risks
Diseased animals can also be a human health risk, with some dogs carrying notifiable diseases.
78% of people recently surveyed said that imported dogs and puppies should receive mandatory health screenings.*
Your next puppy could cost more than you think. We need to stop the irresponsible and illegal import of pets. But, we cannot achieve this on our own.
The ban on third party puppy sales
The UK Government's new law, banning the sale of puppies and kittens in England from third parties, came into effect on 6 April 2020. This means that anyone wanting to buy or adopt a puppy or kitten must go directly to a breeder or rehoming centre.
In November 2020, MPs were given evidence about the loopholes within the UK legislation that still allows for breeders in other countries to sell to people in England.
Victory as Wales introduces its own third party sales ban
We were really pleased when the Welsh Parliament passed a brand new law to better protect pups and kittens in Wales. The law came into effect in September 2021 and now helps to prevent unscrupulous breeders from taking advantage of unsuspecting pet buyers.
While there's still a few details to iron out - including ensuring rescue centres can still rehome young pups and kittens - the new regulations will ban third party sales in Wales. The law will ensure a better start for pups and kittens, as the new rules require the breeder to have bred the animals at their own premises. This means that young animals will no longer be allowed to be transported long distances, or imported from other countries, and sold in Wales.

Use the Puppy Contract
If you're looking to buy a puppy for yourself or your family, The Puppy Contract will ensure your puppy has been well cared for, is healthy and will make the perfect pet for you.
Don't get "Petfished"
The third party sales law in England will only be effective if it's enforced and people are aware of the risks of buying from an illegal puppy dealer.
Report illegal puppy trading
If you suspect someone is selling puppies illegally call your local authority or, if there is welfare concern, call us 0300 1234 999.
*Research conducted by Savanta Comres on behalf of the RSPCA from 13th-15th November 2020.