Helping wildlife in winter
We can all struggle when the weather takes a turn for the worse, and our wildlife friends are often the most vulnerable to the extremes the elements can take.
Here's how you can lend a helping hand to wildlife in winter.
Feeding birds in winter
Take a look at our tips on feeding garden birds - including our bird feeding guide. Birds may find it harder to find their normal food in winter, but you can help them to stay strong by leaving out extra food for them.
Helping badgers in severe weather
Badgers don't hibernate, but they do sleep through most of the severe weather and have a tough time finding their favourite food of earthworms when the ground is frozen. They'd welcome nibbles such as lightly cooked meats, cheese, peanuts and fruit.
Learn more about helping badgers.
Help stock a squirrel's store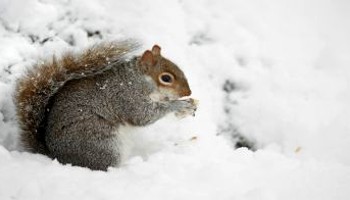 Squirrels 'cache' (store) food when it's in good supply, to eat when food is scarce.
To help squirrels survive the coldest times of year, you can offer them nuts such as hazelnuts, walnuts and almonds, plus some chopped apple, beans, carrots or spinach.
Melting frozen ponds
Toxic gases can build up in frozen ponds, killing fish or frogs that may be hiding at the bottom. If you have a pond, check it every day for ice.
If the pond does freeze over, carefully place a saucepan of hot water on the surface to melt a hole. Never tip boiling water onto it or break the ice with force, as this can harm fish.
Hibernating hedgehogs, frogs and mice
Before lighting bonfires, check wood or leaf piles carefully for wild animals such as hedgehogs, frogs and mice, who like to hibernate in these cosy spots. If you find wild animals in hibernation, be sure to leave them be.
Follow the links below for more tips on helping the wildlife in your garden.