Magazines and leaflets
animal life magazine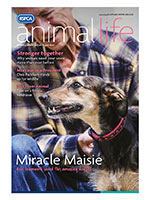 Our twice-yearly membership magazine, 'animal life', is packed full of fascinating news and features.
Join us and you'll be treated to the latest news and campaigns, heart-warming rehoming stories and rescues that tug at your heartstrings, plus features on what we're up to, the issues that get us fired up, and lots on how we use your donations to help hundreds of thousands of animals every year.
Become a member now and you'll receive the next issue, delivered to your door.
View a previous issue of animal life online.
Leaflets and posters
We publish a wide range of leaflets, booklets and posters covering all kinds of advice on animal welfare.
Select the publication you want to order from the RSPCA Publications List and send us an e-mail at: RSPCA_CST@theapsgroup.com
In the subject box, please quote 'RSPCA publications order' and remember to include the publication title, reference number, quantity and your delivery address!
Please note: leaflets are now only available in packs of 25.