Animal action subscription
Subscribe today to receive four issues a year of the amazing Animal action magazine.
Get a junior subscription for an incredible £9.50 (£16.50 overseas)! So, what are you waiting for?
Subscribe today (Overseas delivery)
Kids who love animals love Animal Action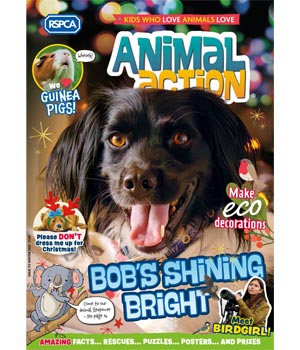 Our junior magazine is packed with news of daring RSPCA rescues and feel-good rehoming stories.
Kids under 12 will love the awesome animal facts, pet care advice and behind-the-scenes peeks at our centres and staff in action.
Plus, there's a regular page from CBBC's Rory the Vet, posters, puzzles and competitions galore.
View a previous issue of 'Animal action' online
Animal Action makes a great gift!
Create a subscription today!