Animal care assistant - Anna Lindley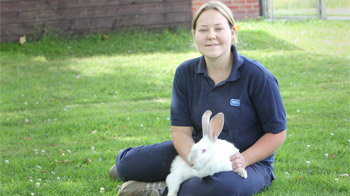 Self-confessed rabbit lover Anna Lindley is an animal care assistant at Leybourne Animal Centre.

Whilst she enjoys working in the kennels and cattery, Anna's favourite area of the centre is the small animals section.
I'm mad about rabbits and their welfare, and all the other small animals that come through the doors - except snakes! I'm terrified of them.

What comes into the care of the small animal area?
Small animals include everything from pet budgerigars and parakeets to ferrets, guinea pigs, hamsters, rats, mice and of course rabbits.
Basically anything that's not a cat or a dog. I love the fact that you never know what you're going to get!

Challenges and rewards
Caring for such a diverse range of animals provides an interesting challenge for Anna and a lot of work!
When I'm working in the small animals section I spend most of my time cleaning, feeding and providing basic veterinary care and enrichment. It often feels like I'm chasing my tail.

It breaks my heart to think that the small animals, like rabbits, often go unnoticed, sat in a three-foot hutch next to a bin in the back garden.

I love working with these animals. The ones that get a little bit forgotten sometimes. I get to help make their lives better.

Anna herself has four rabbits Tia, Firdley, Einstein and Pickle. They all live in the third bedroom of Anna's house which has been especially adapted for them.
My friends all think I'm mad! They come round and say I'm bonkers. Einstein looks like a mad professor - he's got red eyes and he's all fluffy and white.
Find out more
Anna is passionate about all the small animals that she cares for, but many of them desperately need to find new permanent homes.

Find out what rabbits, and other small animals, need to be healthy and happy in our pets pages.

If you think you can offer one of the many small animals in our care a loving home visit our pet search, to find your perfect pet.