Animal care assistant
Making sure the animals in our centres are all cared for until they're rehomed. An animal care assistant is a great way to start your career working with animals.
What an animal care assistant does
A vital role in keeping our centres running smoothly - animal care assistants keep our animals happy whilst in our care, help people who come to us looking to rehome an animal.
How they work with animals
You would work with many different types of animals, not just cats and dogs - so each day will be different from the next.
Although you'll get to do lovely jobs like feeding animals, you'll also have to do the mucky stuff like cleaning where the animals live. However, this is only part of the job and there's still other fun parts of the job such as exercising, getting animals socialising and grooming the domestic animals. You'll also perform health checks and give medical treatments.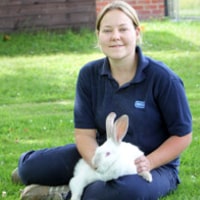 I love working with these animals. The ones that get a little bit forgotten sometimes. I get to help make their lives better. - Anna Lindley, Animal Care Assistant
Do you need a degree in animal care?
You won't need a degree in animal care, so if you're looking to start your career working with animals then this could be the perfect job for you.
We only ask that you have GCSE qualifications or equivalent. You can also volunteer to start getting yourself experience in animal care. Some of our volunteers have gone on to apprenticeship roles within our charity.
Get started as an animal care volunteer
Get the chance to cat cuddle, dog walk or get hands-on in one of our animal hospitals or centres.