Apprenticeships
Our apprenticeships are a great way to start your new career. We have opportunities in all areas of our organisation, whether it's working with animals directly or an in-office supporting role. An apprenticeship with us will provide you with work experience, training and salary.
What our apprenticeships offer
Opportunities across England
apprenticeship levels ranging from two to six (GCSE to foundation degree and above)
and an extensive and generous benefits package
Find apprenticeships in our job vacancies
What is an apprenticeship?
Apprenticeships are work-based training programmes leading to industry recognised qualifications. Because they're occupation-focused rather than qualification-led, they develop the skills and behaviours required within your chosen career as well as theoretical knowledge.
Apprentices are given a 20 percent off-the-job training allowance in order to complete their apprenticeship training.
Hear from some our apprentices
Justin Disdale - Apprentice animal collection officer (ACO)
The apprenticeship that I am doing is as an animal care and welfare assistant and lasts for 18 months.
My journey to this point started when I became a wildlife casualty volunteer, which I did for twelve months. After a very short time as a volunteer I realised that working for the RSPCA was the new career path that I wanted to take. This was a daunting decision to take at the age of 48, however with the support and opportunities provided by the Society, to grow and develop my volunteer role, just confirmed that when the opportunity to apply for an ACO position arose I would grab it with both hands.
I see the apprenticeship as a great opportunity to develop holistically using my current transferable knowledge and skills whilst embracing the continued professional development provided by the society for my future role as an ACO. It's an amazing opportunity to do a job that I love whilst gaining a Level 2 qualification. This has been an exciting and very enjoyable start to my RSPCA career and I aspire to become an Inspector in the future.
Ren Shilcock - Apprentice campaigns officer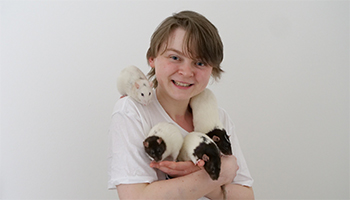 In only three months I've learned how to thoroughly plan a campaign, how to use insights from social media and why digital content is important.
I've gone from having a very basic idea of what digital marketing is, to having a firm understanding of what it means to be a digital marketer. I've been given the chance to lead my own campaign as part of my work in the campaigns team, and seeing that take shape and be prepared to go live is so worth all the effort I've put in so far - not to mention how exciting it is to see my ideas come to life!
When I saw the job, I couldn't believe it as it seemed perfect. The opportunity to learn and work for the UK's largest animal welfare charity doesn't come up every day.
I'd already been involved with the RSPCA by volunteering at my local RSPCA branch as a dog walker every weekend. This not only provided me with an outlet to get out of the house and do something positive, but it also enabled me to be around and help animals. Although, I was mostly dog walking, I did see the shocking results of some people's cruelty, which is why I think the RSPCA is so important.
Today, I'm lucky enough to have landed my dream job working at RSPCA HQ, helping to campaign and give animals a much-needed voice.