Our apprenticeships are a great way to start your new career. We have opportunities in all areas of our organisation, whether it's working with animals directly or in one of our support roles. An apprenticeship with us will provide you with work experience, training and salary.
What is an apprenticeship?
Apprenticeships are work-based training programmes leading to industry recognised qualifications. Because they're occupation-focused rather than qualification-led, they develop the skills and behaviours required within your chosen career as well as theoretical knowledge.

Apprentices are given a 20 percent off-the-job training allowance in order to complete their apprenticeship training.
What our apprenticeships offer
Opportunities across England and Wales
Apprenticeship levels ranging from Level two to Level seven (GCSE to Masters Degree)
And an extensive and generous benefits package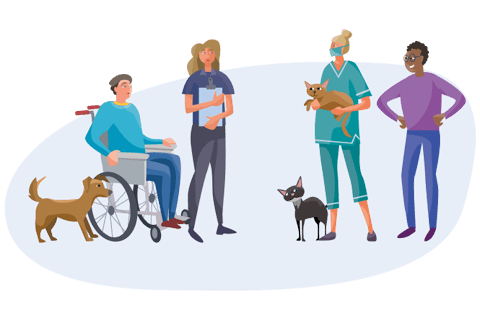 Do you want to find out more about what our different apprenticeships look like and hear from our past apprentices? Take a look at the RSPCA Apprenticeship booklet and find out more about how our apprenticeship program could be right for you.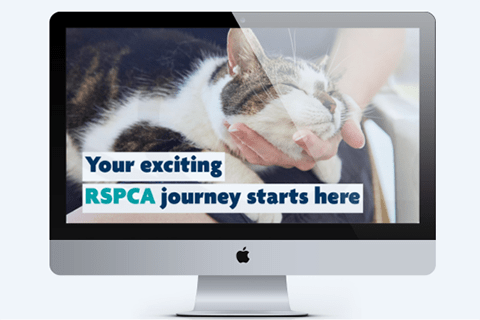 Is an apprenticeship for me?

Apprenticeships are open to everybody who is:

over the age of 16
not in full-time education
eligible to work in the UK

Some of our apprenticeships ask for 'essential' or 'desirable' qualifications, skills or experience. These will be listed on the apprenticeship vacancy advert - so just take a look.

What does an apprenticeship cost?

The RSPCA funds the full cost of apprenticeship training - so you can get useful qualifications and experience without paying tuition fees.

I want to apply for an apprenticeship in Wales - how is it different for me?
All RSPCA apprenticeship vacancies are advertised on our jobs website and the Government's Find an apprenticeship website. To apply, just follow the instructions on the advert.

Contact your local RSPCA branch to find out what opportunities they have (as we don't currently list Branch vacancies).

How does the recruitment process work?

There are six steps in the recruitment process:

Application deadline.
Invitation for interview - You will be contacted by phone or email (sometimes both) to invite you for an interview. You will also be contacted by at least an email if your application is unsuccessful.
Interview - These will be conducted face to face or via video call. We aim to have 2 people on the interview panel.
Selection - To ensure consistency, we score all interviews for each role in the same way. Once a decision has been made we contact all interviewees, whether successful or not. We also aim to include feedback where possible.
Employer checks - We check your right to work in the UK, identification (for example passport, driver's licence or CitizenCard). We might also ask for certificates to check that you are eligible for the apprenticeship you have applied for.
Start date and enrolment - The apprenticeship provider will explain what the apprenticeship looks like and what you can expect from them.

Do you have any advice for the application process?

Our top three tips for your application:

Try to show that you have - or think you could develop while working - the skills listed in the advert. And tell us about any experience you have.
Share examples of how you demonstrate our vision and values.
Tell us what you're passionate about and why you're interested in the role.
Who will support me once I'm on my apprenticeship?

You will be fully supported in your apprenticeship, etc:

Your manager

Your manager offers day-to-day guidance and support and will give you the chance to gain new skills and experiences.

Your colleagues

Learn from your colleagues - ask questions, learn new skills, gather feedback - and become an important part of the team.

Other apprentices

Get to know other apprentices - new and experienced - to share top tips, best practice and learning experiences.

Your mentor

A mentor is someone who guides and advises you. You could join a structured mentoring arrangement or work informally with a chosen person.

Your apprenticeship tutor

You'll have regular one-to-ones with your apprenticeship tutor. They'll make sure your training programme remains on track, and check that you're feeling motivated and supported.

The RSPCA's internal Apprenticeships Team

The team is available right through from recruitment to completion. We are there to offer support and be a point of connection between the workplace and your apprenticeship training provider.

What happens when I finish the apprenticeship?

We hope our apprentices will begin a long and rewarding career with us. Happily many go on to permanent roles here, within the same team or in a different area. 70% secured permanent positions at the end of their apprenticeship.

We encourage all our staff to keep developing, both personally and professionally. Here are other opportunities we can offer you:

Volunteering
Work placements
Internships
Veterinary pre-clinical placements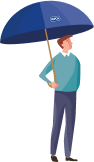 apprenticeships enrolled since August 2017
different apprenticeship qualifications offered to date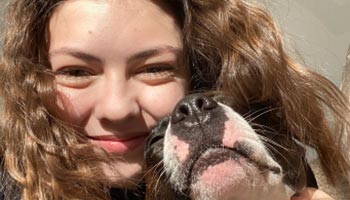 Apprentice Data Protection Support Assistant, Level 3 Business Administration Apprenticeship

"The skills, knowledge and experiences gained from my apprenticeship training have given me a solid foundation for whichever career path I choose."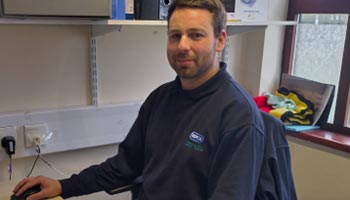 Animal Centre Supervisor, Level 3 Team Leader Apprenticeship

"The apprenticeship has developed my knowledge. It's a great help in my current role and has improved by chances of furthering my management career within the RSPCA."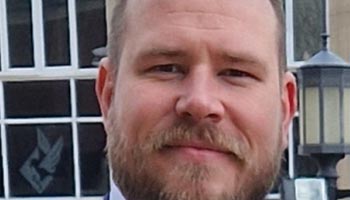 Business Analyst, Level 4 Business Analyst Apprenticeship

"The support from both my line manager and the RSPCA was excellent. I had regular check-ins to assess my progress where I could raise any queries."
Our aim is that this aspirational culture will be experienced by everyone, no matter who you are or what you do!

Compassionate
We care deeply about the lives of animals and have empathy for people. We act with kindness and consideration at all times.

Inspirational
We are life changing, we inspire by taking the lead. We speak up when others don't and change animals' lives for the better.

Committed
We are determined rescue animals from cruelty and neglect, and advocate for animals at risk of harm.

Expert
We have expert knowledge which we willingly share. We underpin our decisions and actions with science, data and experience.

Integrity
We are honest and trustworthy. We act with integrity and do what's right.