Breed Specific Legislation (BSL)
Update 11 May 2018: Parliamentary inquiry into Dangerous Dogs Act announced.
After two years of campaigning and over 80,000 signatures on our #EndBSL petition, Parliament has announced an inquiry into the current legislation on dangerous dogs. The Environment, Food and Rural Affairs (EFRA) Committee have launched this inquiry into the 'ineffective and unjust' Dangerous Dogs Act (DDA), looking to replace it with a legislation that not only better protects dog welfare in this country, but also effectively protects public safety.
We'll now be working on a submission for the Committee's consultation and will continue to work tirelessly to bring about a change in the law.
Add our Twibbon to your social media profile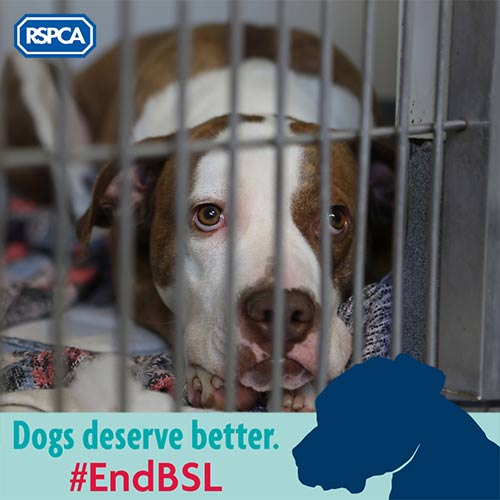 Show your support for our campaign and
add our 'Dogs deserve better' Twibbon to your profile picture
.
What is BSL?
Breed Specific Legislation was introduced 26 years ago as part of the Dangerous Dogs Act 1991 to restrict the ownership of certain types of dogs deemed to be dangerous to people.
In the UK, BSL bans the ownership of four different types of dogs traditionally bred for fighting: pit bull terrier, Japanese Tosa, Dogo Argentino and Fila Braziliero.
Dogs suspected of being a banned type are typically seized by the police and can spend significant time in kennels away from their owners during which they are assessed to determine whether or not the dog is a banned type. Whilst some dogs will return home to be kept under strict conditions, sadly, some have to be euthanised - because of the way they look.
There is no research to demonstrate that these breeds or types are any more aggressive than other dogs.
Whether or not a dog is aggressive can be influenced by factors such as how they are bred and reared and experiences throughout their life. Breed is not a good predictor of risk of aggression. And, despite the legislation, dog bites in the UK continue to increase.
Breed specific legislation not only fails to protect public safety, but has also resulted in the suffering and destruction of hundreds of dogs, that are deemed 'dangerous' simply because of how they look.
We've put together a report about our proposed solutions and recommendations called Breed Specific Legislation: A dog's dinner
Find out more about Breed specific legislation
Why BSL doesn't work
Studies show that BSL has not reduced dog bite incidents in Ireland, Spain, Italy, Netherlands or Belgium.
Since 1991 in the UK, 37 people have died in dog-related incidents - 28 of which involved dogs not prohibited by BSL.
In England, hospital admissions due to dog bites recorded between 2005 and 2015 increased by over 76% despite the prohibition of certain types of dogs.
There is no specific research to demonstrate that dogs bred for fighting are naturally aggressive towards people or that they are unique in the way they can bite.
A better approach than BSL
We believe that a three pronged approach is needed to better protect public safety:
Effective legislation and enforcement to tackle dog-related issues regardless of breed or type and based on their behaviour
Education particularly targeted at children, who are most vulnerable from dog bites
A better understanding of why dogs bite
Ways to effectively protect public safety have been explored in other countries and it is clear that much of the focus is on encouraging responsible dog ownership and education.
BSL has been reviewed in many countries worldwide and the trend is to repeal this type of legislation. This has been achieved in the Netherlands, Italy and Lower Saxony, Germany as well as many US administrations.
Find out more about our proposed solutions and recommendations in our detailed report: Breed Specific Legislation: A dog's dinner