Rehome a farm cat
Some of the cats that come into our care are most suited to living independently outdoors. These 'farm cats' - also known as barnyard or stable cats - need shelter, food and water and space to roam. Adopting a farm cat is more like being a 'guardian' than a pet owner ensuring their basic needs are met.
Suitable homes could include:
Stables
Farms
Garden centres
Nursing homes
Large gardens with shelter
There are many reasons why some cats lead this type of lifestyle. They may have lived for a long time as a stray and aren't familiar with or comfortable being close to people. It could relate to early experiences and even genetics. Whatever the reason we try to find the perfect home for them.
Jada the treehouse cat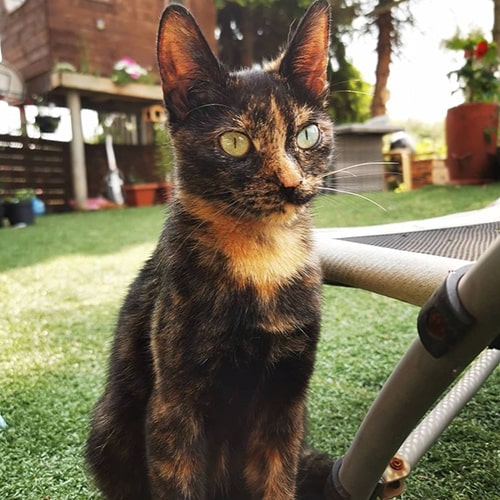 Jada came into our care after she was found on the streets struggling to give birth. Once her kittens were rehomed, the RSPCA Manchester and Salford branch knew they needed to find a unique home for Jada.
Very little was known about her history or whether she had ever lived in a home before. She also showed signs of being nervous about people, so the branch found the perfect home for her - in a treehouse!
Jada is doing really well in her environment. She still prefers her own company but now has the freedom to cosy up next to her owner's feet when she feels like it!
What you can expect from adopting a farm cat from us
These cats are unique and need a special sort of home which is different to a traditional family house. Taking on one of these cats gives them a second chance in the type of home where they can live their best life. Seeing them roaming free, dozing in the sun and exploring to their heart's content can be really rewarding.
All our cats will be:
In good health
Neutered
Microchipped
Vaccinated, where appropriate
Treated for fleas and worms
We'll also support you with advice and guidance on looking after your cat.
A suitable home for a farm cat
You don't need to have a farm or riding stables to rehome one of these cats. We're looking for homes of all different types of homes to match the variety of different cats we have. You may have stables or an outbuilding or a cosy garden shed which may be just what they need.
A suitable home should provide:
Shelter
Easy access at all times - garages, sheds, barns, outbuildings
Weatherproofed
Suitable all year round - adding extra warmth during cold weather (insulation/bedding)
Access to outdoor space such as grass, woodland, garden etc
Hazard-free area
Free from toxic chemicals or poisons
Hunting dogs
Busy roads
Loud machinery
Daily food and water provided
Provide daily, frequent food and clean water
Provide smaller meals several times a day
Health and welfare
Provide frequent health checkups
Be prepared to seek veterinary help if the cat becomes unwell or injured
Be responsible for regular flea and worm treatment
Merlin the yard cat
Merlin was taken off the streets by our Macclesfield, South East Cheshire and Buxton branch through their 'Trap Neuter Release' programme. He was brought back to full health and was then adopted as a yard cat. He's settled in very well!
Farm cats can be good pets for the right owner
Your cat's personality will be unique to them. Outdoor cats are independent in nature but over time may come to seek attention or affection from you.
Mixing farm animals with a farm cat isn't usually a problem. If you already own pets then you'll need to think about how this will work. We can discuss your individual needs when registering your interest.
Interested in adopting a farm cat