Lurcher left with exposed metal plate
Poor Luna was left by her owner with a metal leg plate exposed to the elements. Her leg had been operated on two years previously but her wound had not healed and was now infected and dripping with blood. She needed urgent veterinary treatment but the person responsible for her failure to take her.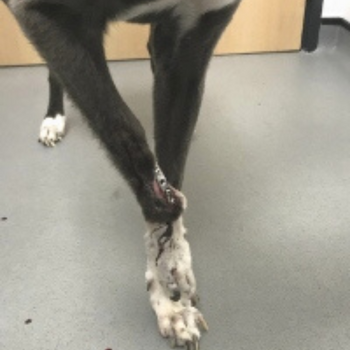 Our investigating officer, Inspector Christine McNeil said:
I could smell the distinctive smell of infection coming from Luna's leg, even from a distance. She was holding up her right foreleg and the metal plate was attached to her exposed bone.
Luna was lean and I could see her ribs and spine. The kennel she was in was dark and dirty with some faeces within and there was no comfortable resting area.
When asked when Luna had last seen a vet the reply was "recently" but they could not confirm which vet Luna had been seen by.
Urgent veterinary treatment
Our inspector advised that Luna needed urgent veterinary treatment - they both eventually agreed to this after she explained that she would otherwise be returning with the police.
A vet who examined Luna later that day said the presence of the orthopaedic plate was extremely obvious and her owner was responsible for ongoing serious neglect.
The vet confirmed:
Luna was mildly lame, being unable to bear some weight on the right foreleg which indicates this was causing pain. It is very likely due to the appearance of the skin surrounding the exposed plate that this wound/exposed bone had been present for a prolonged period, potentially weeks to months, prior to presentation. This would have led to a prolonged period of suffering.
Police were called to attend the veterinary practice and seized Luna, passing her into our care.
Luna received emergency treatment and pain relief before being transferred to one of our clinics to have an x-ray taken. None of the vets in the local area had a record of treating Luna.
Foster care
Christine McNeil fostered Luna during her rehabilitation before she was adopted by another family, said:
It was lovely to be able to care for Luna and help her recover from what was a really dreadful ordeal.
We started off with short walks to build up the strength in her leg, and her loving, friendly and sociable nature shone through. She liked nothing more than snoozing on my sofa and trying out all my soft furnishings, and I'm so pleased that she's doing well in her new loving home.
Following our prosecution, the man responsible was given an 18-week prison sentence, suspended for two years, banned from keeping any animals for 12 months and ordered to pay £500 costs.
If you would like to offer a rescue animal a new home head over to our Find a Pet section of our website.
---