Dog caused mental fear from abuse
A man was prosecuted for causing unnecessary suffering after concerned neighbours sent us recordings of him verbally berating his dog.
In the recordings, the man was heard shouting at his rottweiler cross called Lucy. His angry voice yelled; "don't look at me" and "don't make me hit you" before neighbours heard thuds followed by Lucy yelping making them think the dog was being hit.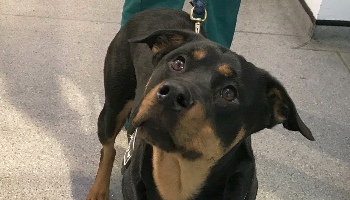 In another recording, he could be heard shouting: "Going to walk to the shop again and get myself some bits. Don't even think of robbing" before Lucy is heard yelping, whimpering and barking. He then yells "shut it" and "look at my flat bro, my flat is covered". He didn't use Lucy's name, merely referring to her as 'dog'.
Lucy was taken into possession by police and passed into our care. She was assessed by both a veterinary surgeon and a canine behaviourist. Initially - Lucy was nervous, anxious and fearful when handled - with her tail between her legs. However, she grew into a responsive, friendly and a confident dog among women although she still reacted with significant fear when a man was present and attempted to interact with her.
Suffered as a result of mental fear and terror
A vet concluded:
"It's my expert opinion that undoubtedly Lucy suffered as a result of mental fear and terror as a result of the verbal abuse from [the man] as demonstrated on the audio recordings.
"It's well known and understood by the public that dogs respond to the tone and volume of the voice and that dogs are susceptible and will suffer from fear and distress if verbally abused particularly if this is recurrent or long lasting.
"Training and discipline of dogs are nowadays recognised as needing to be reward based so that positive achievements are rewarded and that negative behaviour is ignored and not reacted to. Physical and verbal abuse is no longer acceptable as part of dog training as it has been shown to be both ineffective and to cause the dog long term distress."
Pleaded guilty to unnecessary suffering
Her owner denied he had physically harmed his dog, but admitted his behaviour was inappropriate and that it caused Lucy distress over a period of time. He pleaded guilty to one offence of causing unnecessary suffering to Lucy by the use of physical violence and intimidatory and abusive behaviour contrary to section 4 of the Animal Welfare Act 2006. The courts disqualified him from keeping domestic pets for five years and sentenced him to a 20-day Rehabilitation Activity Requirement, a six-week curfew and to pay £300 costs.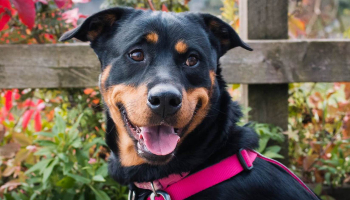 Lucy was signed over into our care and currently in a rescue centre where she's still undergoing rehabilitation.
Staff say she's a lovely dog who has bonded well with her carers but still needs time to adjust to new situations before being found in a loving new home.
---