RSPCA urges animal-lovers to say no to puppy yoga classes
The RSPCA is urging people who are considering attending a puppy yoga class to consider other alternative activities to help de-stress with dogs in a kind, compassionate way.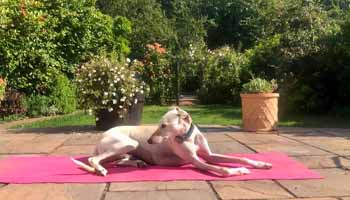 The practice of puppy yoga has been thrust into the spotlight this week following an ITV News investigation - with the RSPCA raising concerns that it is detrimental to dog welfare and could even be fuelling unscrupulous puppy traders. Shockingly, there is also no regulation specifically around it.
The sessions involve puppies - some as young as six weeks old - roaming around a yoga class and, in some cases, being incorporated in yoga poses. In recent years it has gained popularity, particularly among celebrities and influencers.
But while organisers claim it is good for the puppies' socialisation, the RSPCA say there is nothing in the environment which we would consider to be beneficial to the health, welfare or the behavioural lifelong development of these animals.
Undercover footage obtained by ITV News showed puppies in the yoga classes being picked up while sleeping, and in one case not having access to water in case it made them "pee" during the class.
Now, the RSPCA has published five welfare-friendly alternatives to puppy yoga to help people de-stress with dogs in a way that doesn't compromise the animal's well-being.
The list follows the publication of the charity's Animal Kindness Index - which revealed a behaviour gap between people's desire to be kind to animals and the impact of their everyday choices, with attendance at classes such as puppy yoga an example of how people may inadvertently be compromising animal welfare.
Esme Wheeler, dog behaviour expert at the RSPCA, said:
"If a young puppy is placed into situations where they feel overwhelmed and frightened they may start to view the things they are being introduced to as frightening, which can then lead to a negative reaction in the future and the potential development of behavioural problems. Sadly, as the ITV News piece showed, these puppy yoga classes are detrimental to the puppies and we're really glad that it has had national coverage this week as it may make people think twice before attending one. You might think it is cute to be able to cuddle a puppy while doing yoga but would it be cute if you knew that doing so is actually not benefiting the dog at all? We know many people attending puppy yoga classes want to be kind to animals - but won't have realised the implications these classes can have for dogs and their welfare. Our new Animal Kindness Index shows most people want to be kind to animals - but sometimes don't understand the consequences of their actions. Fortunately, there are loads of other great ways people can interact and de-stress with dogs in a fun, social and welfare-friendly way."
Anyone who has concerns about a puppy yoga class should get in touch with their local council, as many animal business activities seeking to make a profit require licensing by the local authority.
Alternative activities involving dogs to benefit both the mental well-being of you and dogs include:
Volunteering with dogs
Animal centres across the UK are always looking for volunteers and this can include helping to look after puppies who need lots of TLC. Looking after a rescue dog in an environment where they feel comfortable can really enhance both your's and the dog's well-being. You can find out about how to volunteer with an RSPCA centre on the charity's website.
Mindful dog walking
Walking is well-known to be stress-busting and an excellent form of exercise for dogs too. Take a lovely slow walk where the dog gets to decide the route and they are allowed to sniff for as long as they want. If you don't own your own dog, ask to join a friend as they take their pooch for exercise. Not only is this relaxing for the dog but it's also the perfect opportunity to practice mindfulness at the same time!
Enjoy classical music alongside a dog
Numerous studies over the years have shown that listening to classical music can be relaxing for both dogs and humans - in fact, the RSPCA and Classic FM partner up in the run-up to Bonfire Night to create relaxing classical music programmes to help dogs relax when fireworks are going off around them. So stick on some Bach or Beethoven and relax with a pooch!
Gardening with a canine companion
Being outdoors does wonders for mental health - and gardening is a great mindful activity which promotes relaxation. And it's also good for dogs too - there is plenty of enrichment-promoting smells outside for them to enjoy. Having a canine companion while gardening is good for both of you!
Perfect your downward dog in regular yoga
Regular yoga classes without puppies are excellent ways to relax - you don't need puppies running around to feel the benefit. Find your inner dog and focus on doing the downward dog move instead, before catching up with your canine companion back home afterwards!
---