Nine animals left living in 'squalor' leads to animal ban for woman
RSPCA officers had to wear face masks to combat the overwhelming smell of rubbish and faeces at a house in Lancashire where a woman was living with eight starving dogs and a cat.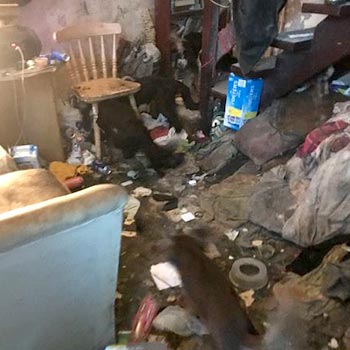 The property in Todmorden Road, Bacup, was so full of waste and debris that there were maggots crawling on surfaces in the kitchen, limited space to walk, and rooms so full of junk they were completely inaccessible.
A cat and eight dogs - a mixture of terriers and crossbreeds who were all matted and underweight - were rescued from the house by the RSPCA. Some were so frightened that they had to be carried out to waiting vehicles.
Severed remains of cat carcasses and five badly decomposing dogs were later found by contractors who had been called in to clean up the squalid property
Following a prosecution by the RSPCA, Amy Youll of Shadowmoss Road in Wythenshaw has been banned from keeping all animals for an indefinite period following a sentencing hearing at Manchester Magistrates' Court on 8 September. She was also handed a 12-week prison sentence, suspended for 24 months.
Youll had denied three animal welfare offences but was found guilty at a trial in her absence last October.
Magistrates heard how RSPCA inspectors found the eight dogs and a cat running loose in the house on 18 September 2021. The decomposing remains of a pet rodent were also found in a cage in an upstairs bedroom.
In his evidence to the court, one of the officers, inspector Will Lamping, said: "The property was awful, with rubbish and debris strewn throughout. I struggled to walk through the house as there was waste and rubbish everywhere.
"There were old dog faeces over all the floors and surfaces, including the kitchen worktops. In some areas, particularly the upstairs landing and stairs, the faeces was so thick that it covered the entire floor, forcing the person to have to walk across it.
"The smell of urine and rubbish in the house was terrible and at many times overpowering. On a table in one room I found a large number of maggots. I couldn't see any food, water or clean rest area provided anywhere in the house for the animals."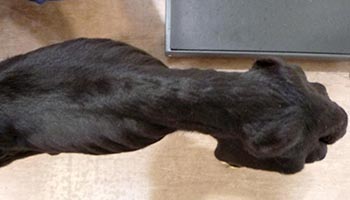 All the dogs were anaemic and extremely thin with their spines, hips and ribs protruding. They smelt strongly of urine and faeces, which was matted in the fur, pads and long, overgrown claws of many of them.
Live fleas were visible, including on a black and white cat called Mortimer, and several of the dogs were scared and needed to be carried to the RSPCA inspectors' vans. There was no fresh drinking water for any of them in the property.
A vet who examined the animals gave six of them - including Caitlin, a black and white female spaniel type dog - a body score condition of no more than 1 or 1.5 out of 5. He said it was reasonable to conclude, in the absence of any underlying medical condition, that they had all been starved.
"In my opinion, the animals involved in this case had been caused to suffer," he said in his evidence to the court. "All of the dogs were found to be anaemic to some degree. This anaemia resolved once they had been treated for fleas and had been provided with a suitable diet. The anaemia was likely a combination of malnutrition and blood loss due to the flea infestation.
"Ammonia is of particular concern regarding its irritable effects on the respiratory system. Although levels were not measured, it is likely that such an environment, in combination with the smell of faeces and amount of faeces contaminating the floor surfaces, would cause these animals to experience distress from which they could not escape, therefore causing them to suffer.
"The level of faeces deposits described and documented indicate that suffering would have been experienced by these animals for a period of at least three days, probably longer.
"An environment housing animals that contains a number of physical injury hazards, such as sharp-edged tin cans, old and fresh faeces deposits and an atmosphere of ammonia, is unsuitable."
The vet said Youll had also failed to meet the needs of the animals by not providing them with a suitable diet and that in the case of six of the dogs, this had been for a 'prolonged period' of time.
All nine animals went on to make a full recovery thanks to the RSPCA's Southport, Ormskirk & District branch, which rehomed them from its animal centre in New Cut Lane, Southport.
The court heard how on 30 September 2021 the RSPCA was contacted again after private contractors who had been called in to clean up the house, found the badly rotting carcasses of five, small to medium-sized dogs in an outside area at the back, as well as severed parts of the remains of 'many' cats inside.
The dogs had been placed in carrier bags, boxes and planters and were heavily infested with maggots. Skulls, jaws and teeth were visible, but such was the state of decomposition, it was not possible to tell how the animals had died.
RSPCA inspector Alison Fletcher, who saw the remains, said: "The scene was highly distressing to view and I would have to say one of the worst things I have visited within my 20 years of working with the RSPCA. The smell in the area was extremely strong and could be tasted on the throat.
"I instantly recognised the smell of decaying carcasses. I was advised that each of the bodies were exactly as they were found, contained within a bag, box or planter, but that each of them had been found piled under the rubbish and debris."
Magistrates, who also ordered Youll to carry out 25 RAR days, were told that the defendant suffered from poor mental health and struggled to look after herself, let alone her pets.
RSPCA chief inspector Nina Small, who led the investigation, said: "The conditions these animals had to endure were some of the worst I've seen in my 20-year career and I believe they would have died had they not been found in time.
"The disgusting squalor and the level of suffering and neglect was inexcusable.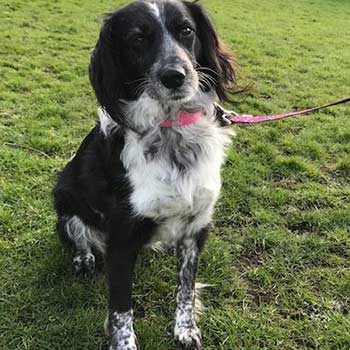 "Staff and volunteers at our branch-run animal centre in Southport did a fantastic job to rehabilitate and rehome them all, especially as many of the dogs were nervous when they were rescued from the house. Myself and all my colleagues who were involved in this case are over the moon that they're now enjoying their lives in loving new homes."
Another defendant in the case was sentenced last November after pleading guilty to two animal welfare offences and was banned from keeping all animals for eight years.