New Defra Secretary urged to ensure live exports ban is 'top of in-tray'
The new Secretary of State for the Environment Steve Barclay has been urged to prioritise a new bill that will finally ban the live export of animals - after previously showing "enthusiastic support" for the policy.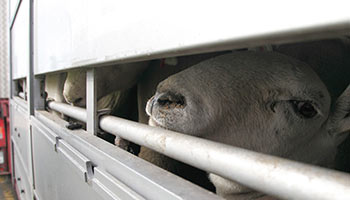 Campaigners at the RSPCA have welcomed Mr Barclay to his new post at DEFRA, which comes just days after plans for an Animal Welfare (Livestock Exports) Bill were included in the King's Speech.
However, plans for a ban have already hit the buffers once during this Parliamentary term - after the UK Government binned its Kept Animals Bill, which has been anticipated to be the cornerstone of its animal welfare agenda.
Now, the new DEFRA Secretary has been urged to ensure a new bill is "at the top of his in-tray" and to finally get the long-promised ban over the line.
Kerry Postlewhite, assistant director of campaigns and prevention at the RSPCA, said: "We welcome the new Secretary of State to his position, and are committed to working with him to make this a better country for animals to live.
"It is imperative that this UK Government bans the live export of animals - outlawing the long, crowded journeys, mental exhaustion, physical injury, dehydration and stress that are a reality for farm animals on these unnecessary journeys.
"While we were bitterly disappointed when the Kept Animals Bill was dropped, last week's King's Speech was a real moment of celebration for our 50 year campaign to end live exports. We urge the new Secretary of State to get this issue at the top of his in-tray and ensure this law finally becomes a reality."
Mr Barclay has previously shown strong support for the need to legislate against the live export of animals.
In 2019, he posted on Twitter, now X, that leaving the European Union would allow live animal exports to be banned, and said his party wanted to "get on with the job of protecting animal welfare once we leave the EU". The following month, he said that the "Conservatives have pledged to stop this cruel practice once we leave the EU".
Kerry added: "It is great that the new DEFRA Secretary of State has shown such strong and enthusiastic support previously for a ban on live exports.
"While the last export to leave the UK was on 31 December 2020, with no law in place this could start again at any time, which is why a ban is so crucial and overdue.
"Ending live exports has long been touted as a major Brexit benefit for animals. Years after we left the EU, it's time the outdated and cruel export of live animals is finally consigned to the history books, protecting animals at home and sending a big statement about this practice internationally, too."
Today, across the continent, around 1.6 million farm animals – cattle, sheep, pigs and horses – are transported huge distances across Europe annually, some for slaughter, others for further fattening, on gruelling journeys that can last tens of hours, exhausting the animals and causing suffering and even death. Journeys often also involve overstocking, vehicle or ship malfunctions and journeys involving animals too sick or injured to be exported in the first place.
Over the last half a century, the RSPCA has seen millions of signatures on petitions, thousands attending protest marches, and weekly demonstrations from members of the public at UK ports. Over half of the public (54%) support a ban with only 10% opposing it.
Join the campaign
Take action to keep this on the political agenda.
Sign-up to our emails so we can keep you updated on the progress of all our campaigns and how you can help to support the welfare of animals.