A surge in unwanted rabbits leaving RSPCA Animal centres swamped
Irresponsible breeders are contributing to a surge in unwanted rabbits that have left RSPCA animal centres swamped - with a whopping 48% rise in rabbits being taken in last year.
In Rabbit Awareness Week (June 26-30), the animal charity is calling on people to prevent the growth of unwanted litters by neutering and promptly sexing their pets.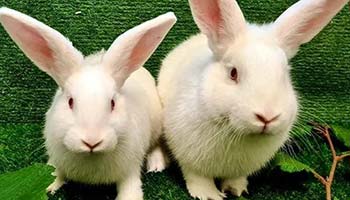 Rabbits breed quickly and RSPCA animal centres are full of abandoned and unwanted animals. While at the same time, many owners have found their bunnies breeding out of control, sometimes because they have been sold missexed pairs.
In the last year, RSPCA officers have tackled horrendous cases of neglect, which illustrate the problem of those who disregard the welfare of rabbits with wayward breeding practices.
Four giant-breed New Zealand rabbits are currently being cared for by RSPCA Kent North West Branch in the aftermath of a prosecution case, which involved animals that were reared for their meat in squalid conditions on an allotment in the North East.
Marilyn gave birth to eight babies soon after arriving in RSPCA care and branch staff are looking to rehome her with one of her daughters, Maddie while two more of her offspring, twins Dolores and Luisa, are also seeking new homes. All the rabbits have been with the branch for over a year and were moved to Kent from a private boarding establishment to give them a better chance of finding new homes.
RSPCA Kent North West Branch manager Becky Blackmore says the branch, along with the charity's other centres, has been under huge pressure as rehoming rates have fallen in recent years.
Last year (2022) there was a huge 48% rise in the numbers of rabbits being taken in, with 1,090 rabbits arriving at animal centres and 1,942 rescued by RSPCA branches.
So far this year the numbers have dropped compared to a similar period last year, but many RSPCA centres are now full to capacity and cannot accommodate any more rabbits. In the first five months of this year (up to the end of May), 307 rabbits were brought into RSPCA animal centres and 308 arrived at RSPCA branches. While 93 wild rabbits were also brought to the charity's four wildlife centres.
"Some rabbits have been in private boarding establishments for a year, others for many months," said Becky. "Over the last year it has cost the RSPCA tens of thousands of pounds to keep rabbits in private boarding as they are being rehomed so slowly - it is an eye-watering cost.
"We try to take in as many as we can to ease the pressure on the waiting list, as we did with Marilyn. We give them space and try to find them homes. She was among some poor rabbits who were being bred for their meat on an allotment. They were being kept in appalling conditions."
The branch hopes to repeat its success in rehoming another extended family of bunnies, whose owners failed to neuter them and their numbers multiplied. Sarah and Hector, arrived in Kent with offspring, Johnny, Meena and Ash, and were neutered on arrival. But by then Sarah was pregnant again and she gave birth to five more rabbits with the branch completing a year-long process of rehoming all the rabbits - had they been neutered earlier the costs of surgery along with vaccinations and microchipping would have been saved.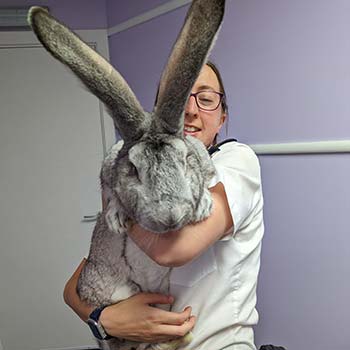 In another case of rabbits being "bred for the pot", RSPCA officers rescued 42 Giant Flemish rabbits from an allotment in Ashington in Northumberland in July 2022. The poor animals were living in cramped hutches and were left to breed with each other to maximise numbers for the meat trade.
Several of the charity's centres and branches, including those at RSPCA Great Ayton and RSPCA Northumberland West Branch, rehomed the rabbits, while because of the accommodation shortage some were taken in by RSPCA inspectors.
In Leicestershire, the RSPCA discovered more than 160 rabbits living in overcrowded conditions in a garage of a property in Great Easton. Their owners had seen their rabbit numbers soar from an initial handful after they failed to neuter and sex their animals quickly enough. Inspectors Helen Smith, Richard Durant and Herchy Boal undertook a major rehoming exercise which saw the rabbits taken to RSPCA centres in Berkshire, Gloucestershire, Lincolnshire, Cambridgeshire and Hampshire for rehoming.
Inspector Durant said: "This was a good example of the problems that can be encountered by owners who fail to neuter their rabbits and then end up becoming totally overwhelmed.
"The owners said they tried separating them, but they weren't quick enough and the rabbits bred again and again and the sad situation got out of hand. It was astonishing and although most of the rabbits were in a healthy condition, the environment they were living in clearly wasn't suitable for their needs."
In a report in 2021, the PDSA found that 37 per cent of the 900,000 pet rabbits living in the UK were not neutered.
But the benefits of neutering rabbits outweighs the very small risk of surgery and most vets are happy to undertake both castration and spaying procedures. The Rabbit Welfare Association and Fund advises owners that male rabbits can be castrated from 10 weeks, while females can be spayed from four months.
Rabbit Awareness Week is highlighting the problems that unplanned litters pose by adding to the numbers of rabbits being given up and abandoned. If owners were to neuter their pets it would not only reduce the numbers of unwanted rabbits, but help them live longer, healthier lives. Around four-fifths of unneutered female rabbits develop uterine cancer after the age of three years.
Dr Jane Tyson, the RSPCA's rabbit welfare expert, said: "There's a reason behind the well known saying of 'breeding like rabbits'. Rabbits can reproduce at a very young age, they are pregnant for just one month and they have large litters.
"And what many people don't often realise is that they can get pregnant again within just a couple of hours of giving birth. All this means that an unsuspecting owner can quickly find themselves becoming overwhelmed with animals.
"This is why the theme of Rabbit Awareness Week 2023 is so important, especially at a time when rescue centres are inundated with calls for help from rabbit owners. We'd urge anyone who hasn't yet had their rabbit neutered to speak to their vet about getting them booked in for this very important, and routine, procedure."
There may be help available towards the costs of neutering and owners can check with their local RSPCA branches to see if they are eligible for help. Owners can also find advice on sexing their rabbits.
Along with other animal welfare charities, the RSPCA has partnered with Burgess Pet Care to provide free resources in Rabbit Awareness Week. These provide information about how to adopt rabbits from animal centres and how to best take care of them, including neutering guidance. Rescue centres can download a free resource pack which they can share with potential adopters.
Many of the rabbits RSPCA centres and branches currently have available for rehoming were unneutered when they came into the charity's care and some were rescued from poor living conditions.
To help the RSPCA continue rescuing, rehabilitating and rehoming animals in desperate need of care please donate online or call our donation line on 0300 123 8181.
---