Matt Johnson is a broadcaster, journalist, podcaster and a mental health and eco activist who has presented multi award winning TV programmes including Surprise Surprise, Good Morning Britain and ITV's flagship daytime magazine show This Morning. In 2020 Matt founded Checkin, which is a multimedia mental health service that provides mental health tools for people in need. He hosts regular weekly live 'Checkins' and interviews with his audience and has created a hugely popular 'Check-in Journal' to help people understand their emotions/feelings to gain a better understanding of their mental health.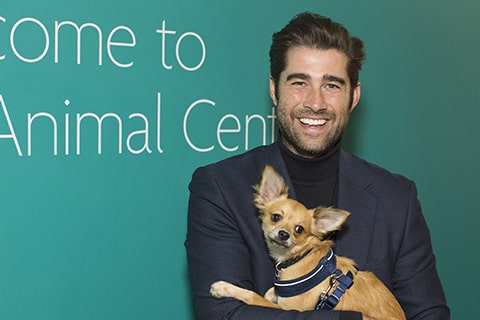 Matt Johnson at RSPCA Millbrook
Shares his home with an adopted pug
Matt is also an avid animal lover and shares his home with his adopted pug, Alan. We welcomed Matt as an RSPCA ambassador back in 2015 after he contacted us due to his interest in animal welfare and wanting to do more to help. That year, Matt, alongside the RSPCA created the Christmas campaign #Paws4Xmas, which encouraged people to think about animals in need and raise money for our important front line rescue work at the same time. Since then, Matt has promoted the importance of pet adoption and hosted events such as our Christmas concert and taken a key role in the RSPCA Honours awards.

Matt appreciates the way that animals improve our mental health and is a strong advocate of animal welfare and we are delighted that he continues as an RSPCA ambassador.
"I've loved animals since I was a child. A few years ago, I realised I wanted to do more to help animals in need, so I contacted the RSPCA and asked how I could get involved. Since then I've really enjoyed being a part of this amazing charity and can't wait to continue working alongside them as they work to improve animal welfare."
Matt Johnson