Chris Packham is a committed naturalist, broadcaster, writer and conservationist and an avid wildlife photographer. He began his onscreen career presenting CBBC's The Really Wild Show and is a longstanding presenter of the BBC's Springwatch, Autumnwatch and Winterwatch programmes. Chris received a CBE in the 2019 New Year Honours for services to wildlife and nature conservation.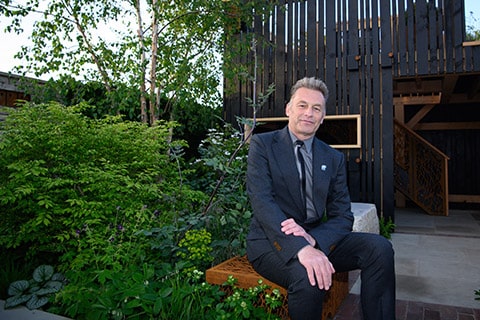 Chris at RHS Chelsea Flower Show 2023
Chris spent almost fifteen years as our Vice President and was announced as RSPCA President in May 2023. Across this time, he has offered us his expertise, influence and passion and is a huge asset to our charity. He has a great love of wildlife, nature and companion animals too, sharing his home with his beloved miniature poodles, Sid and Nancy.

Chris has campaigned strongly alongside us against numerous advocacy issues including banning fox hunting and badger culling. Chris has been vocal about fox hunting for years and supported our campaign 'Save The Hunting Act'. Chris has also vocalised support against the use of glue traps, Fur Fee Britain and Act Now for Animals Green Paper. He's helped with fundraising campaigns and has used his platform to showcase and explain the invaluable work of our inspectorate and investigations teams. Chris has also incorporated his love of photography with the work we do at the RSPCA. He's hosted our annual Young Photographers Awards since 2006 and has been a judge since 1990, only once taking a year's break when his step daughter entered the competition.

His proactive approach to educating the wider public about how to help wildlife, paired with his unmeasurable passion for the animal kingdom, positions Chris as an invaluable President.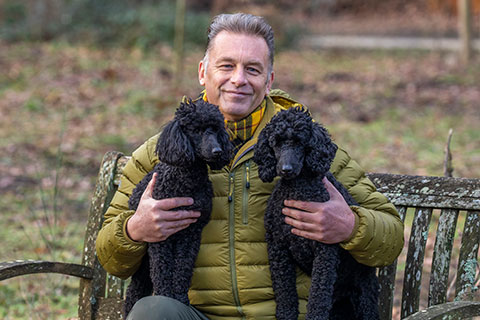 Chris with his dogs Sid and Nancy
"I'm incredibly proud to be a part of the RSPCA. This wonderful charity has an enormous legacy and commitment to animal welfare and is staffed by people who see their jobs as a vocation. We should cherish it, nurture it and continue to support it wherever we can. I am pleased to support the RSPCA and will continue to do so for as long as we need to make changes to safeguard animals."
Chris Packham