Sir Brian May PhD is a musician, astrophysicist and animal welfare advocate. He's best known as the lead guitarist and one of the founders of the legendary band, Queen. He has a PhD in astrophysics from Imperial College London. More recently, in November 2022, Sir Brian released the photographic book Stereoscopy is Good For You: Life in 3-D. He was awarded a Knights Bachelor, for his services to music and wildlife in the 2022 New Year's Honours List and Knighted by His Majesty King Charles III in March of 2023.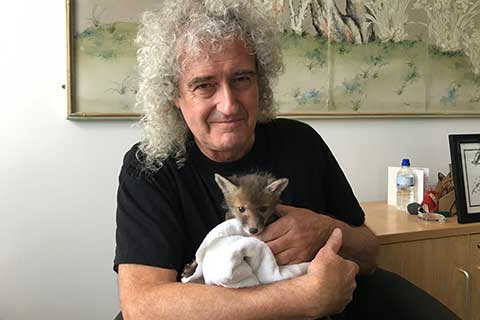 A passionate wildlife campaigner
Sir Brian is a passionate wildlife campaigner and has made a great difference to many animals' lives through his work, including founding the Save Me Trust, alongside Anne Brummer, which campaigns to protect the welfare and dignity of wild animals. Brian has been one of the leading voices, standing alongside us, in lobbying the Government against the badger cull and fox hunting, issues that we both continue to campaign on.

Sir Brian's love of animals and his passion to protect all wildlife are admirable and we are honoured to have him as one of our Vice Presidents.
"The one thing we need in this country is a strong RSPCA, one that protects animals against the abuse that continues to happen in this country. It's vital that the RSPCA has the support needed to keep fighting against these cruel acts and continues to educate and inform the general public and take care of animals in need. I'm honoured to be one of their Vice Presidents and will continue to support them in their cause and campaign alongside them about issues that I strongly believe in."
Sir Brian May
Sir Brian May with RSPCA's CEO, Chris Sherwood at RHS Flower Show 2023