Brian Blessed is an actor, presenter and writer, as well as an ardent animal lover. His most well-known roles include Blackadder, Star Wars Episode I: The Phantom Menace, Flash Gordon and Doctor Who. He received an OBE from Queen Elizabeth II for services to the arts and charity in 2016.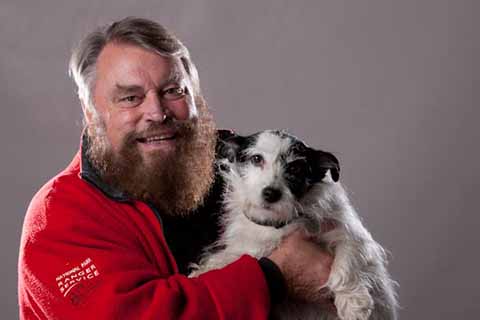 Brian and a dog named Misty © Steve Cowell
An advocate for animal welfare
Brian has been an advocate for our cause for many years and has a particularly strong relationship with our Millbrook Animal Centre in Surrey. He shows his support in lots of ways, including providing one of his unmistakable voiceovers for the launch of our Home for Life scheme, and regularly attending our events, such as our Christmas concerts, where he gives inspirational readings. Brian shares his home with his dogs, Paquita and Roxy.

We're thrilled that Brian is one of our Vice Presidents and are looking forward to continuing our relationship with him.
"Ever since I was a boy, I have loved animals – they've always been a huge part of my life. That's why I'm thrilled to be a Vice President for a charity that cares so deeply for animal welfare. I strongly support the work that the RSPCA does to support animals in need and am delighted to continue my relationship with them."
Brian Blessed