Baroness Janet Fookes is a British Politician and was a member of the House of Commons from 1970 to 1997. She now sits in the House of Lords, where she continues to show her passion for animal welfare and her strong support for us.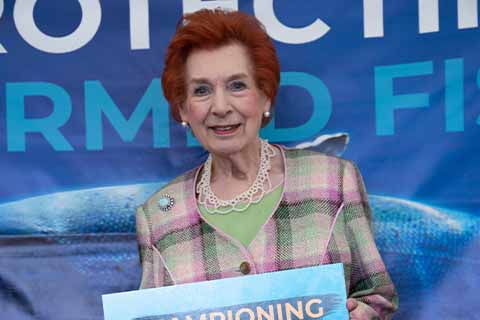 A stalwart supporter of animal welfare
Baroness Fookes was one of our trustees for over 17 years, including two years when she was Chairman. During her 50 years in Parliament, she has been a stalwart supporter of animal welfare and continues to work actively to improve animal welfare standards. In 2022 Baroness Fookes expertly steered the Glue Traps (Offences) Bill through the Lords, which will ban the use of glue traps in England. She will also steer the Trophy Hunting Bill through its Lords stages.
We're incredibly grateful for Baroness Fookes' support over the years as she enables us to have a voice in the House of Lords and promotes issues that we believe should be addressed in Parliament.
"I first encountered the RSPCA as a young councillor in the 1960s when I asked for their advice about the use of wild animals in circuses, which is now illegal in Great Britain. This led to many years as a trustee and a term as Chair. I still try to promote animal welfare now in the House of Lords and I recently took through the Bill – now an Act – to end the cruel practice of glue trapping. The RSPCA continues to have my wholehearted support for all its amazing work with animals"
The Baroness Fookes DBE