Annual review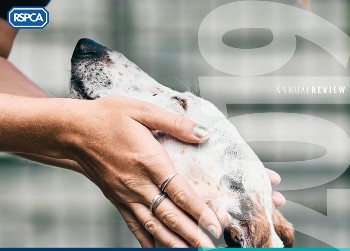 The cover star of our latest Annual review is Nate, a five-year-old lurcher. When this image was taken, he was being rehabilitated at RSPCA Millbrook Animal Centre. Through no fault of his own, this loveable dog had experienced multiple homes and at times been ill treated. Our expert team of animal carers and behaviourists worked hard over many months to help Nate regain his confidence and learn to trust and play again. Thanks to their love and dedication, he was matched to a new, experienced owner. This summer he said goodbye to his Millbrook family and moved to his forever home, where we hear he's settled in and loving life.
Read the Annual review online, or download the PDF at the bottom of this page.
There are plenty more heartwarming stories of the work our staff and volunteers have done to rescue, rehabilitate and rehome or release animals in our 2019 review. Plus, we report on our breadth of work across the Society, notable projects and successes, such as:
A ban on wild animals in circuses
After a century of campaigning, we welcomed government Bills in both England and Wales, banning the use of wild animals in travelling circuses. Now animals like zebras, camels, elephants and tigers will no longer be subject to cruel circus conditions and treatment.
Action on puppy trade
The government in England agreed to tighten up on controls on the sale of puppies by making the sale of a puppy or kitten under six months illegal by anyone other than the breeder. The ban on third-party sales came into effect in April 2020.
Our Focus on Severe Suffering initiative
We built on and promoted this pioneering initiative, aimed at ending severe suffering in lab animals. By sharing information, publishing guidance, organising and presenting at national and international events, we have potentially improved the lives of millions of animals. There has since been a 48 percent decrease in the number of experiments on animals involving severe suffering in the UK.
Our volunteer network
The RSPCA was founded by volunteers and still today around 60 percent of our work is carried out by more than 9,000 generous people who give their time for animals. In 2019, we launched the microvolunteering scheme, with actions supporters can do from home such as helping on social media, signing petitions and conducting research - small tasks that make a big difference.
Our RSPCA Young Photographer Awards
The 2019 competition saw more than 6,500 images entered. An incredibly high standard meant tough work for our judges, including conservationist and RSPCA Vice President Chris Packham and wildlife filmmaker and TV presenter Patrick Aryee. Our overall winner, Grace Jones, aged 16, said winning the competition has inspired her to study A level photography at college.