Annual review
Our latest Annual review gives a snapshot of the multiple challenges we faced – and worked to overcome – in 2022. The cost-of-living crisis, the war in Ukraine and the climate emergency impacted everyday people and animals. The Westminster Government's failure to deliver on many of its animal welfare promises, and upheaval within government itself, resulted in frustration and uncertainty. The avian flu outbreak had a devastating effect on wildlife and farm animals alike. Sadly, we said goodbye to our patron and animal lover Queen Elizabeth II.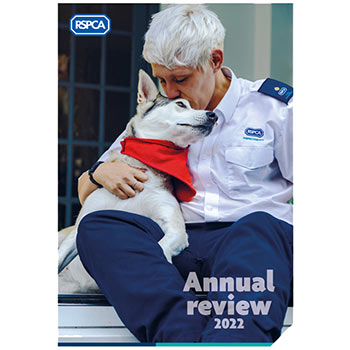 But our look back on 2022 also reveals the hope, strength and compassion we've demonstrated for nearly 200 years.
Our Annual review shows how we were there for animals, telling the stories of rescuing a sheep in a dramatic cliffside mission, of saving a starving horse from a snow-covered field, and reaching a dog locked in an empty house with no food or water. We rehabilitated animals across England and Wales, from an oil-covered puffin, to orphaned otter cubs, to abandoned dogs – like Skye, pictured on the cover.
We've also been developing our approach to cruelty prevention, through inspiration and education, community support, and intervention when cruelty does occur to stop it happening again. Our work with RSPCA Assured and local RSPCA branches, volunteers, supporters, campaigners and fundraisers made a difference to countless animals' lives.
A year of action: our campaigns
Almost two centuries after we first vowed to improve animal welfare standards, our work to change laws continued into 2022. The new Animal Sentience Act acknowledged that animals including octopus and lobsters have feelings and emotions, while police were given new powers to tackle hare coursing and cruel glue traps were banned for use by the public. Fixed Penalty Notices, with fines of up to £5,000, were introduced for anyone responsible for animals who breaks certain animal welfare laws, and a new grants scheme will improve the welfare of farm animals in England. We achieved these wins thanks to an incredible 140,000 campaign actions undertaken by our supporters.