Annual review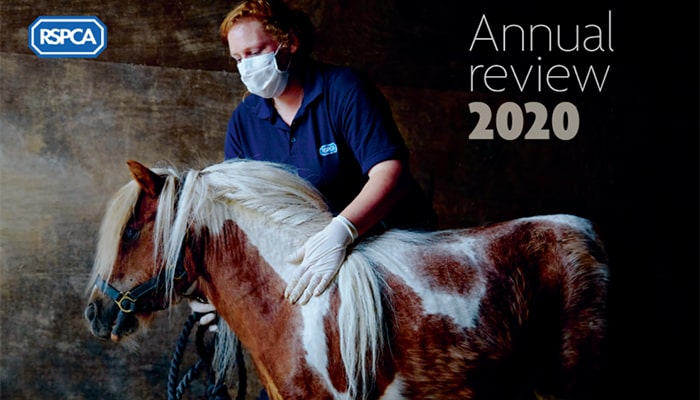 The photograph on the cover of our latest Annual review shows equine carer Charlotte Neary, looking after one of a herd of Shetland ponies we rescued in 2020. More than 30 elderly ponies had been left to fend for themselves and had serious health issues. Thirteen of them were rehabilitated by the expert team at our Millbrook Animal Centre in Surrey. And after months of costly dental treatment and farrier work, they were well on the road to recovery.
Staff worked hard to earn the ponies' trust and get them used to handling and everyday activities. We've since found every one of them a comfortable and loving home in which to spend their twilight years.
Read the Annual review online, or download the PDF at the bottom of this page.
Our review showcases more examples of the lengths we went to, to rescue, rehabilitate and rehome or release animals. Plus, we report on our breadth of work across our charity in what was a challenging year.
Our work to inspire young animal lovers
We helped children, their parents and teachers with fun online learning as classrooms went digital during lockdown. Together with our continued Generation Kind, Paws For Change and Great Debate initiatives, we¿re helping create future generations that are kinder to animals.
Our campaigns
2020 saw some big wins for animal welfare. We helped secure the new Agriculture Act, which incentivises farmers to adopt higher animal welfare standards. We worked tirelessly to help safeguard our higher welfare standards in the run up to the UK's Brexit deal. And as the pandemic hit, we were quick to get key-worker status for our inspectors, field officers and centre staff.
Our volunteer network
The RSPCA was founded by volunteers and still today a huge amount of what we do is only made possible by the generous people who donate their time. Despite the pandemic, 2020 saw an increase of 91% and much more diversity in our volunteer base. This has happened thanks to our microvolunteering scheme, which allows even more people to get involved, often without leaving home.