Ethics
Important responsibilities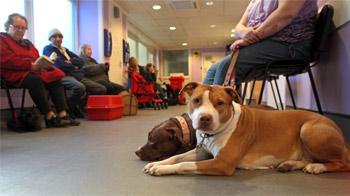 We believe that everyone in society should carefully consider how they interact with, and impact on, the lives of animals.
For us, seeking to do 'the right thing' for animals often involves having to make some very tough decisions. For instance, our vets and animal care staff have to make difficult judgments about the future quality of life of individual animals.
This might mean us saying no to a hopeful family who would like to rehome a dog but doesn't have room, or euthanasing a wild animal that would not be able to fend for itself when released.
Ethical dilemmas
Sometimes our desire to help animals may carry a cost to others. For example, the veterinary vaccines we encourage millions of pet owners to use have been developed and tested using laboratory animals, many of which cause significant suffering.
There are other sorts of dilemmas in our work for wildlife and in our animal centres. For example, to rehabilitate animals we need to feed them an appropriate diet, which is likely to be sourced from other animals farmed to provide food.
Difficult decisions
Unfortunately, we do not live in a perfect world. Few animal welfare decisions are simple or 'black-and-white'.
We must always consider the wider context and consequences of our actions. Wherever possible we promote or implement those practical steps that help maximise positive outcomes for animals and avoid or minimise negative impacts.
We can be proud of our significant achievements and the substantial contribution we make each day to directly improving the lives of millions of animals - but we will not, and must not, ignore those for whom the outcome of our actions is less desirable.
For a more detailed look at some of these issues take a look at the Difficult decisions article from our Animal Life publication.