Post-release monitoring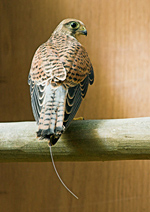 To help with our understanding of what happens to the wild animals we care for, we monitor animals after release using a variety of methods. It can be simple, like attaching a ring or implanting a microchip, or we can track them using a radio transmitter or a satellite tag.
This allows us to follow the animals' progress in the wild and to learn how, when and where to release animals to give them the best chance of survival.
It enables us to know how the animals we release are surviving, so that we know if our rehabilitation methods work and so we can make improvements if necessary.
We have tracked bats across Cheshire using tiny radio transmitters and used satellite tags to track seals' voyages through the English Channel.
Looking at the long-term picture
Beyond the first few weeks or months after release we use information collected by eagle-eyed people to build a picture of the lives of animals we have tagged and released long after they leave us.
By ringing gulls released from our centres we have been able to track them through recorded sightings from as far north as Spitzbergen, Norway and we know they have even reached the west coast of Africa!
If you would like to know more, take a look at our current research.
---