Wildlife assistant - Wendy Burrows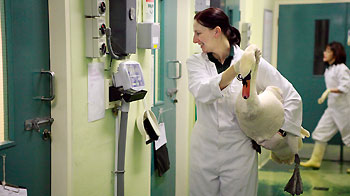 Wendy Burrows is one of 13 hands-on wildlife staff at Stapeley Grange Wildlife Centre; they have different areas of expertise and work closely together to make the centre the success it is.
Common admittances
Throughout the year Stapeley Grange sees up to 500 hedgehogs. The admissions are split into two sets of litters - one in June and one in September. Wendy tells us a bit more about them:
The young hedgehogs have to reach a certain weight before they can be released and if this isn't achieved for the September admissions they will be kept in over the winter period.

Busy times
During the summer months, from April to September, all our wildlife centres are really busy, and Wendy's is no different.

Wendy sees all sorts of animals, from garden birds to hedgehogs, fully grown swans to tiny cygnets, anything can come through the doors.

Wendy said:
Releasing rehabilitated animals is a lovely moment. It's one of the most rewarding parts of the job.

Rehabilitation
If, like Wendy, you are interested in the rehabilitation of wild animals why not check out our wildlife rehabilitation page.
---