Swimming
Pull on your swimming cap and make a splash while helping end cruelty to animals
Be part of Team Animal, whether you choose to take part in an organised event or set your own challenge in the pool, lake or river, we'll support you all the way.
Your swim, your way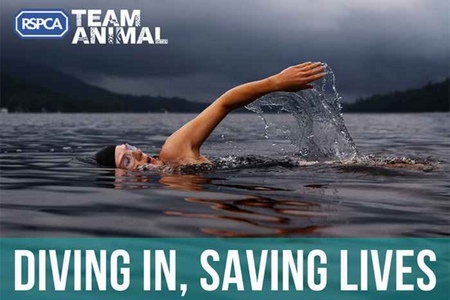 Distance: Choose your own, 20 lengths, 50 lengths, 5 miles wild swimming
Time: One day, one week or one month
Type: Pool, Lido, Wild, the choice is yours
Registration fee: Free
From 20 lengths of your local swimming pool to 5 miles at your outdoor swimming club, you can take on your own challenge, your own way.
Get in touch and tell us all about your plans.
Got your own place in an organised swimming event?
If you've entered into a swimming challenge like the Great North Swim, you can join Team Animal today and help us rescue more animals.
Join Team Animal with your own place
With your own place there's no fundraising target, just raise as much as you can. You'll receive full support from our events team, a fundraising pack full of ideas to get you started and your own RSPCA swimming arm band (just let us know when your fundraising reaches £25!).