Donate with your smart speaker
Available on Amazon Alexa and Google Assistant-enabled devices, our new Alexa Skill and Google Action is here to help you find out more about our work and how you can donate.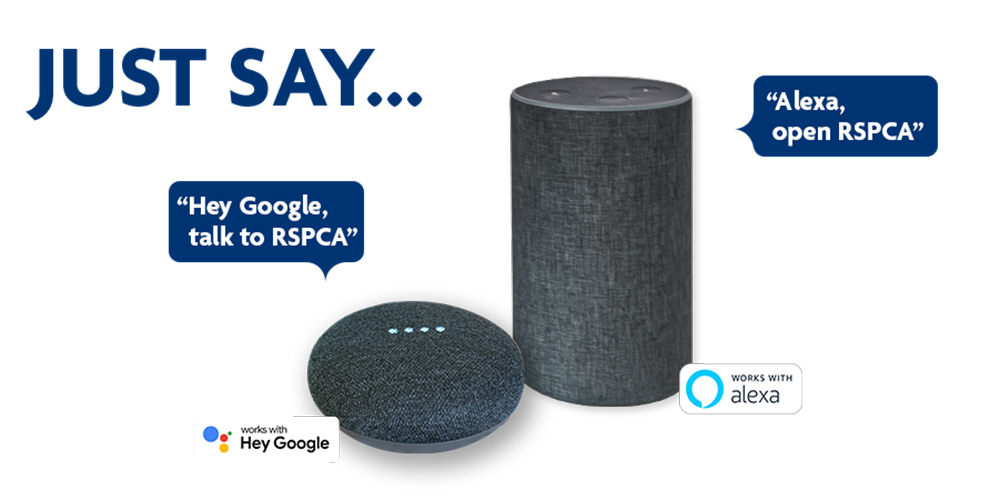 How your donations help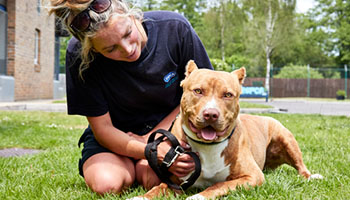 Each year, we rescue more than 100,000 animals. Your donations help rescue and care for these vulnerable animals giving them the vital treatment and love they deserve. Thank you.
Voice activated donation FAQ
How do I get started?
It's quick and easy to open our RSPCA voice app on your smart device, simply say:
"Alexa, open RSPCA"
"Hey Google, talk to RSPCA"
If you're having problems opening our skill, try speaking slowly and clearly. You can also manually download the voice app to enable the RSPCA skill/action on your smart device.
You won't need to log in, download or install the RSPCA voice app to get started.
Do I need a specific device to use the RSPCA voice app?
You can use the RSPCA voice app on any device that supports Amazon Alexa or Google Assistant, such as your smartphone, TV or smart device, including Amazon Echo devices, the Alexa mobile app, Amazon Fire TV, Google Nest, Google Assistant mobile app and Google Home.
Can I use the RSPCA voice app if I don't have a smart speaker?
If you don't have an Alexa or Google smart speaker at home, you can always open the RSPCA voice app by downloading the Alexa mobile app or using Google Assistant on your smartphone. Google Assistant comes as standard on all Android devices and can also be downloaded as an app from the AppStore or GooglePlay.
Can I donate to the RSPCA on my smart device?
We're working on building this option into our Alexa Skill and Google Action so that you can help animals in a simple, quick and convenient way; however, currently we don't have AmazonPay or GooglePay setup to process financial donations, so we offer to send you an SMS or email with more information about how you can donate. If you launch the RSPCA Google Assistant via your Android mobile you will receive a quick and seamless link through to our website to find out more.
What are the other ways I can donate to the RSPCA?
We couldn't continue to rescue animals in need without your support - your donations fund our life-saving work and help us be there for thousands of animals, thank you.
You can donate online, or alternatively, you can ring our Supporter Care team on 0300 123 0346 Monday to Friday 9am-5pm who will be happy to help.
How is my data used?
Any data collected on our RSPCA voice app is secure and is not persisted after your conversation, meaning there is no possibility your data could be stolen or accessed from our voice app.
If you express interest in receiving an SMS or email, we may ask for your mobile phone number or email address to facilitate this. By sharing your mobile phone number or email address with the RSPCA voice app you are agreeing to receive a one-time SMS or email with a link to our website to find out more about how you can support our vital work. The RSPCA voice app does not have access to any additional personal data, voice recordings or transcriptions from the user's input or any information from the user's Amazon or Google profile.
We will always ask for your consent before collecting any data and your data is only used for the purpose for which we have collected it for. Read more about our privacy policy.
Do you have any other questions? Need some help using the RSPCA Alexa Skill or Google Action or want to give us some feedback?
We'd love to hear from you so we can grow and develop the content available to our supporters. Please let us know what you think at supportercare@rspca.org.uk.