Animals are not objects
Much like us, animals are sentient beings and aware of their feelings and emotions. Their lives matter to them and they have the same capacity to feel joy and pleasure, as well as pain and suffering.
We're close to the needed 100,000 signatures
Reaching 10,000 signatures prompted the UK Government to respond that they're committed to recognising animal sentience in UK law. Over 90,000 have already signed to support recognition of animal sentience, we're so close! Add your name to help us reach 100,000 so the petition will be considered for debate in Parliament.
Sign the petition
EU law recognises animals as sentient beings
Post-Brexit, animals are at risk of losing the vital legal protections that comes with EU law. We want a #BetterDealForAnimals - a law that creates a duty for all Ministers in the UK to fully regard animal welfare in policy making.
Animals are not 'goods' and full regard must be given to their welfare to ensure we can continue to change their lives for the better.
I am an animal, we are all animals, and therefore I care - Michael Gove, UK Government Minister, July 2017
Email your MP to ensure animal sentience is recognised in UK law
Thirty-six animal protection organisations - including the Wildlife and Countryside Link, Humane Society International and World Animal Protection - have joined forces to call on the UK Government to recognise animal sentience in law.
What does leaving the EU mean for animal welfare?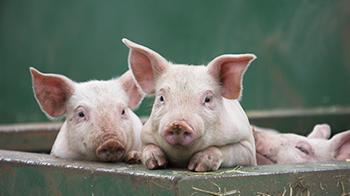 Under EU law animals are recognised as beings with feelings, but what will happen once the UK leaves the European Union?
We must ensure that animals have the same protection and they are not viewed merely as commodities.
After March 2019, European law will no longer apply in the UK.
With 80 percent of current animal welfare legislation coming from the EU, we must ensure that Brexit is not a backwards step for animal welfare.
In the coming weeks politicians in England and Wales will be debating UK Government proposals to enable the UK to withdraw from the EU and ensure European law will no longer apply in the UK.
What we could lose
The recognition that animals are sentient beings, with feelings and emotions, sends a strong message to politicians in both England and Wales. Any laws impacting on animals needs to take into account their capacity to suffer.
Sadly millions of animals are still being kept in conditions that do not meet their needs. However, laws are changing and we are seeing significant improvements in how animals are treated.
Since the recognition of animals as sentient beings, the EU has:
Banned the use of barren battery cages
Ended animal testing for cosmetics
Prohibited import of seal products.