Puppy import facts
Unscrupulous breeders are nothing new, and we were hopeful when Lucy's Law came into effect in April 2020. We need to close the loopholes and properly enforce the legislation to effectively tackle the puppy trade.
Coronavirus has caused a spike in puppy imports
While the Coronavirus pandemic has in many ways created challenges for all of us, it's also nurtured a public need to buy new pets. Faced with extended periods of lockdown, isolation and loneliness, many people have welcomed new pets since the UK-wide lockdown began in March.
While more family pets sounds like a great way to rehome animals, get outside and combat isolation, the spike in demand has culminated in a huge rise in imported dogs and puppies from low welfare conditions.
Higher long-term costs and emotional distress
We know that there are huge amounts of dogs being brought into the UK due to the increase in demand brought by the pandemic. There are numerous hidden risks involved with puppy imports, including disease, behaviour problems and premature death. For the owner, an imported puppy can cost thousands in vet fees and more in emotional distress.
The severity of puppy imports
Did you know that...
The third party sales law (also known as Lucy's Law) came into effect in England in 2020, but loopholes do not prohibit the sale of imported dogs.
Intra Trade Animal Health Certificates (ITAHCs) are certificates requiring a vet signature that allow for an animal to be legally imported into the UK. Up to 150 puppies can be imported on one certificate.
PETS is a travel scheme for pet owners that allows non-commercial travel for pets such as dogs, cats and ferrets from the UK to and within the EU without quarantine.
According to the Canine and Feline Sector Group, whilst non-commercial movements of dogs under PETS crashed by 88% year on year in May 2020 due to Coronavirus travel restrictions, movements of commercial dogs, measured by ITAHCs issued rose by 43% year on year; five of the six busiest months for puppy trading occurred under lockdown.
October 2020 saw the highest amount of ITAHCs since records began, with a whopping 5,287 ITAHCs issued.
We recently revealed we had received 575 reports relating to the puppy trade in England and Wales during lockdown (23 March - 31 October 2020).
52% of UK dog owners surveyed* agree that puppies and dogs should not be imported from other countries outside the UK under any circumstances.
Seven in ten (69%) UK adults agree that there should be greater control on how many imported dogs are allowed into the UK.*
Many dogs who are smuggled into the country to be sold on the underground puppy market have long-term health problems - like Dobby - and behavioural issues due to their breeding and early-life experiences.
Poorly puppies who come into the country with zoonotic diseases (diseases that pose a significant public health risk) invariably end up being put to sleep.
According to Pets4Homes, the average price for a puppy in March (£970) soared to £1,912 by September 2020.
Petfishing and scamming continue to be a huge problem. A recent study by Pets4Homes revealed that between March to November 2020, the Pets4Homes' Trust & Safety team blocked in excess of 120,000 adverts from appearing on the website as a result of not passing Pets4Homes' pre-publication approval process.
How you can make a difference
We're calling for tougher enforcement on the import of puppies at the borders and also want the age puppies can be imported (either commercially or non-commercially) to be increased to 24 weeks in a bid to crackdown on the illicit trade in trafficking dogs in to sell them on to unsuspecting members of the public.
Dobby and Keith were victims of the puppy trade
Imported dog Dobby had loads of health problems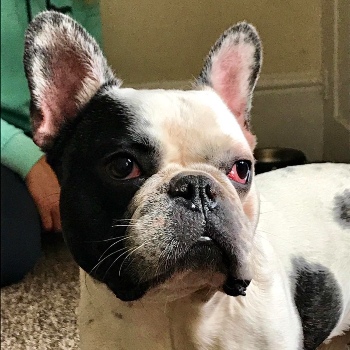 French bulldog Dobby was just 19-months-old when he was taken in by our Mount Noddy Animal Centre, in West Sussex. He'd been imported from Lithuania as part of the puppy trade before being advertised online. When he arrived at our centre in August 2018, a quick check of his passport revealed he'd been born in the eastern European country before being trafficked into the UK.
Unfortunately - but not uncommonly for brachycephalic or flat-faced breeds such as Frenchies - Dobby was plagued with health problems and had severely laboured breathing for which he needed a major operation costing £3,000 to widen his nostrils and make more space in his airways. He was underweight, weak and also needed treatment for ear infections and 'cherry eye', a painful condition affecting the membrane in a dog's eye.
Dedicated staff had to roll his food into small balls and hand feed him every two hours to slowly build up his strength and one member of staff, Jo Chambers, took Dobby home on foster so she could monitor him around the clock. After he won over the whole family, they decided to adopt him.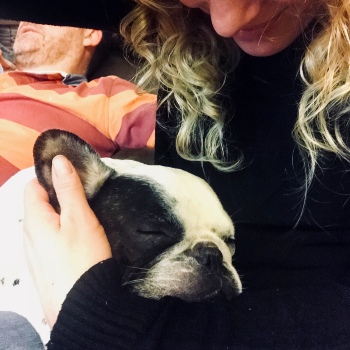 Jo said:
Dobby needed a second operation to further assist with his breathing and really struggles in the warm weather, we have to keep a really close eye on him. He also has various allergies leading to problems with his skin and ears so is on a low dose of steroids long-term to help manage these conditions.
Sadly, many of these health problems are a result of the way he's been bred and he's likely to have ongoing problems for the rest of his life. But we're committed to giving him the best life we can for as long as we have him.
Keith was abandoned by a breeder due to a deformity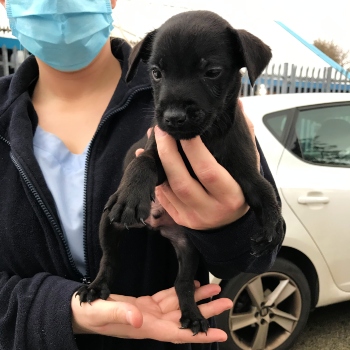 Puppy Keith was just six-weeks-old when he was found dumped in a cardboard box in a park in Ashton-under-Lyne, Greater Manchester. He was found by a passerby on 7 November 2020 after she heard rustling coming from the box and found the tiny puppy inside.
Our inspector Ryan King went to collect the little dog and launched an investigation. We believe the pup had been abandoned by a breeder because of a deformity to his paw leaving him unable to bear weight on his front leg.
Ryan said:
To dump a helpless puppy in this way is callous and cruel. I believe someone has bred a litter of pups and decided to abandon Keith because they notice he had a deformed paw and decided they would not be able to make any money from him.
Unscrupulous breeders see puppies simply as quick cash and will do all they can to maximise the profit margins by keeping them in poor conditions, feeding them low-quality food and avoiding spending money on veterinary care for any injuries or illnesses.
It's likely that as Keith would've needed veterinary attention for his paw they've instead decided to abandon him so he's someone else's problem and financial burden. Luckily for Keith, he's now safe in our care and is being fostered by one of Ryan's colleagues.
*Survey conducted via Savanta Comres on behalf of the RSPCA from 13-15 November 2020.