Second chances
Give rescue animals a better chance at a new start
We want the UK and Welsh Governments to make a change that gives rescued animals in our care a better chance at a new start.
Every year, thousands of animals in need come into our care looking for a second chance. Including wildlife centres, we took in 82,893 animals in 2021. While many of the animals that come into our care are rescued or signed over by the public, some of them come to us because they're involved in our investigation work, which aims to safeguard their welfare and get them the justice they deserve.
Sadly, when an animal we rescue is subject to court proceedings, we cannot rehome them until the case itself is completed, which can result in months or even years of uncertainty for them.
This means that in extreme circumstances, it can take years for animals to get a second chance at a happy life with a loving family.
This is why we'd like to see the UK and Welsh Governments make a change for England and Wales. The change would allow us to start the rehoming process for these most vulnerable animals as soon as they've recovered and are ready for a new home.
Pets in long-term care cost millions
While we do our best to take care of every animal and keep them safe, some inevitably get distressed and require expert behavioural support. There are also huge cost implications for organisations that care for animals seized on welfare grounds, which can become a heavy financial burden for those taking care of them.
We spent £4.9m in costs for animals involved in prosecutions in 2019, which is money could've been spent on helping more animals if we could have rehomed them sooner.
Animals do better in loving homes
Whilst we're committed to keeping all rescued animals safe and helping them recover, a ticking clock can compromise any animal's welfare.
With every day, week or month that passes, an animal's mental and physical wellbeing might be at risk and require a high level of expert behavioural support. This is particularly true for puppies which are at a critical stage of their development and which we are seeing increasing numbers in our investigation work.
Although every measure is taken to care for all animals in ways that prioritise their health and wellbeing, we know that psychological welfare can be at risk when spending extended periods of time in kennels and temporary accommodation.
For dogs like Beau
By taking action, you could help dogs like Beau, who came into our care in 2019 after his owner was caught physically assaulting him in a lift. Poor Beau had to wait for an entire year to be able to put up for adoption, with court proceedings finally ending in December 2020.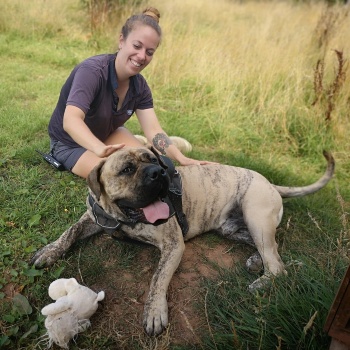 Temporary kennels can have long term impacts
Dogs may suffer from the long term impacts of temporary kennels. It's very likely that at least some will find living in a kennel environment particularly difficult to cope with.
Our behavioural teams are frequently required to deal with behavioural complications of needing to be in our care for long periods; these include some dogs spending extended periods of time barking and whining while others will withdraw and hide away. Some may even display repetitive or compulsive behaviours which require both pharmacological and behavioural treatment.
We observe the most severe cases in dogs that have been severely neglected or even abused in their previous homes. Although our staff work hard to provide a good quality of life while they're with us, kennels are rarely suitable for long term confinement and cannot replace a home setting.
Reducing the time allowed to rehome to two months
This is why we want our supporters to take action and let decision-makers know that we want to see a new animal welfare law. We want a game-changing move that would make it easier for us, and others alike, to rehome animals seized on welfare grounds long before the court case ends.
If the UK and Welsh Governments allowed approved providers, such as us, to rehome animals within a couple of months, it would mean that:
1. It would be far easier to make permanent arrangements for animals in our centres
2. We'd get similar standards in both England and Wales as currently exists in Scotland
3. We could care for animals in our possession we have rescued without putting their welfare at risk even if their day in court has not yet arrived
4. We'd be able to find an animal a suitable home in a timeframe that also allows us to assess each animal's individual needs and circumstances
5. Ease the financial strain on welfare centres
6. Provide more opportunities for animals to have social needs met, allowing them to socialise with humans/other animals sooner rather than later.
Scotland will soon introduce a similar change with a new law that will improve the lives of countless animals. Under the new Scottish legislation, our sister organisation, the Scottish SPCA will be able to rehome an animal after 21 days, speeding up the process of getting an animal into a permanent, loving home.
Take action for animals
Take action to let the UK and Welsh Governments know that case animals deserve a happy ending. Ask them to allow us to rehome animals seized on welfare grounds after only two months.