Wildlife law applies to all wild animals kept in captivity or to those living in the wild. To keep a wild animal in captivity, you may need to apply for a licence.

Here we introduce the main points of the legislation in place to protect wild animals living in the UK.

The Wildlife and Countryside Act 1981
This legislation protects wild birds and other animals in England and Wales. The
Wildlife and Countryside Act 1981
is viewable online.
View Scotland's
Wildlife and Natural Environment Act 2011
online.
The major points of the Act are outlined here:
Wild birds - all wild birds, their nests and eggs are protected. It's an offence to intentionally disturb certain species of bird while they're nesting.
Shooting birds - some species of bird can be shot outside the breeding season.
Selling birds - some species of bird can be sold if they've been bred in captivity and fitted with a ring.
Injured birds can be treated, provided that they're released afterwards. If seriously injured, they may be humanely put down.
Endangered species - certain endangered species, such as red squirrels, are protected.
Common animals, such as the fox or rabbit, aren't protected, but some methods used to kill them are prohibited, such as self-locking snares.
Non-native animals - it's against the law to release or allow to escape, non-native animals such as Canada geese or mink.
Licences - these can be issued by Natural England or Natural Resources Wales so that landowners or an 'authorised person' can take action against certain species for specific reasons (as defined by the licence).
People legally killing animals must take precautions to prevent protected species from being killed or injured.
For more information visit
RSPB's Wildlife and the Law
online content.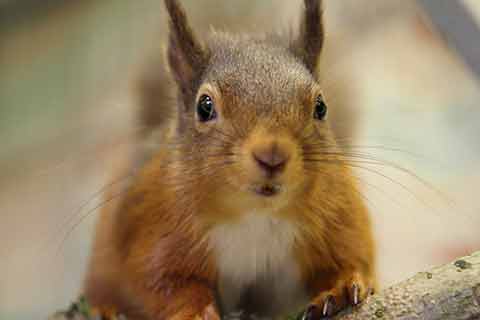 A rescued and rehabilitated red squirrel
Campaigning for change to wildlife laws
We campaign for relevant
changes to legislation
to protect wild animals from unnecessary suffering and provide evidence for consultations when the government is considering changes.
We also assist with police investigations and
prosecute people involved in wildlife crime
, such as badger baiting or the trapping of songbirds.
Captive wild animal advice