Wildlife in summer
How to care for wildlife in hot weather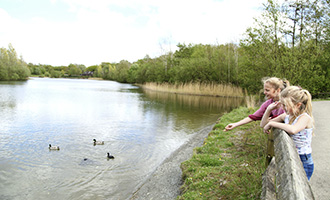 Help garden wildlife by supplying fresh, clean water for drinking and bathing. Be wildlife-friendly - take care when using lawn-mowers or strimmers and keep pesticides out of reach of animals.
Prevent animals getting caught in sports netting by removing them after use, as this could cause serious harm if they get entangled in it. We also recommend replacing pond or plant netting with solid metal mesh too.
Snakes are most active during June and July; don't be alarmed if you see one. Most are just passing through and tend to shy away from humans.
Breeding season for grass snakes
June and July mark the breeding season for grass snakes. You may find their small leathery white eggs in compost heaps, grass cuttings or sawdust piles between June and September. You can tell they're grass snakes eggs as no other snake native to the UK lays eggs outside of the body. Please make sure the eggs are left undisturbed throughout this time.