What to do with injured wild animals
It's not always easy to tell when wild animals need our help, and when it's best to leave them alone. Because wildlife sees humans as predators, they'll usually hide any injuries or illness when they're near us. Monitoring them from a distance can help us see how bad their condition is, and whether it's best to take them for treatment or leave them to recover in the wild. Often, by the time they allow us to get close enough to rescue them, they're much more unwell than they appear.

Wild animals need expert care to give them the best chance of survival, and we can all play an important part in helping to get them the best care as soon as possible. Where it's safe to do so, transporting the animal yourself will get them the help they desperately need in the quickest possible time.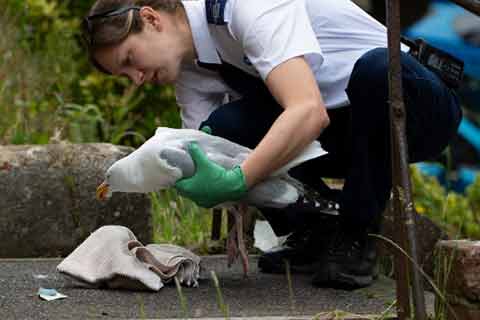 Found a sick and injured animal
Large sick or injured wildlife
Some animals would be dangerous for you to handle or transport yourself. If you see any of these animals sick or injured, keep a safe distance and
contact us
.
Deer
Seal
Wild boar
Otter
Badger
Fox
Snake
Bird of prey (including owls)
Swan
Goose
Heron
Gull
Beaver