48 guinea pigs kept in inappropriate conditions
We received a call to say multiple guinea pigs were being kept in inappropriate conditions.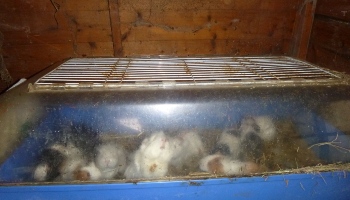 Our inspector attended and found guinea pigs confined in two plastic containers in a garden shed, ten in one and nine in another. The containers were steamed up with condensation because they were so crowded. The conditions were filthy and the animals didn't have access to any water.
A small crate containing six more guinea pigs were found in a bedroom. The base of the crate was thick with faeces and urine and these animals also didn't have water.
More guinea pigs were found crammed into three small hutches in the garden. The smell was horrendous. Each hutch contained a thick layer of compacted faeces and urine with soiled straw built up within it. The height of the dirty bedding in two of the hutches meant the animals were nearly touching the ceilings and two dead guinea pigs were being trampled on by the live ones. The hutches were too small for the number of animals and none had any remains of food in them or any kind of enrichment for the animals.
Some guineas had to have their eyes removed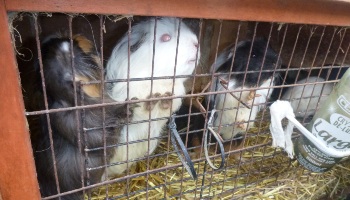 The guinea pigs were taken to a vet where they were all examined, weighed and photographed.
Most were found to be underweight, a fair few were emaciated and some had eye problems and hair loss. 15 were found to be in a suffering state. Several of the animals had to have eyes removed due to trauma suffered in the crowded conditions they had been living in. Unfortunately, a few of them later passed away due to their severe emaciation. Police seized the guinea pigs and passed them to us.
They were taken to our Great Ayton animal centre for emergency boarding. The staff provided plenty of bedding, food and water and the guinea pigs demolished the food given to them straight away.
On their way to good homes
Our prosecution resulted in the court disqualifying the woman responsible from keeping animals for a decade; she was also sentenced to a four-month curfew and ordered to pay costs.
All of the animals were signed over so that we could find them a home, along with the many more babies that were born soon after their rescue.
---