Jo Brand's Kitten Rescue
New series starts this November
Thursdays at 7pm on Channel 5.
Jo Brand's Kittens Rescue returns on Channel 5 on 19 November.
In the series, Jo will work alongside our inspectors, veterinary surgeons and animal centres, helping some of Britain's best loved pets - cats!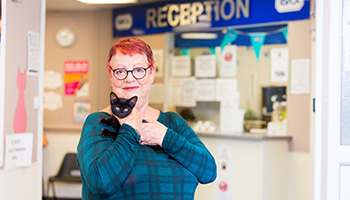 Interested in adopting a rescue cat?
We have so many cats in our animal centres just like the ones who featured on Jo Brand's Cats and Kittens. And like the cats featured in the series, the cats in our centres come in all shapes and sizes, but they have one thing in common - they're all waiting to find a loving new family.
Could you offer a home to one of our marvellous moggies?
Sponsor our cat pods
Help us continue to rescue, rehabilitate and rehome cats across England and Wales by sponsoring our cat pods.
Sign up now and you'll receive regular updates from the staff and volunteers at our centres, as well as photos and stories of the animals that you're helping.