Animal rescue officer
An animal rescue officer (ARO) provides close support to our inspectors and works in a way that enables us to get to animals in need quickly, all year round across England and Wales.
Applications for the 2021 Animal Rescue Officer campaign are now closed! Watch this space for updates on the next recruitment campaign - we don't yet have confirmation of when this will be running and we're not able to confirm the locations until we reach the planning stages. Please keep an eye on our vacancies page and social media channels for the latest opportunities - we look forward to hearing from you soon!
What an ARO does
An ARO alleviates the suffering of animals by investigating alleged reports of animal cruelty, neglect or injury and rescue sick, injured or stranded animals to a place of safety.
They proactively prevent or reduce the incidence of animal cruelty and neglect through proactive interactions with members of the public, and through education and advice to owners.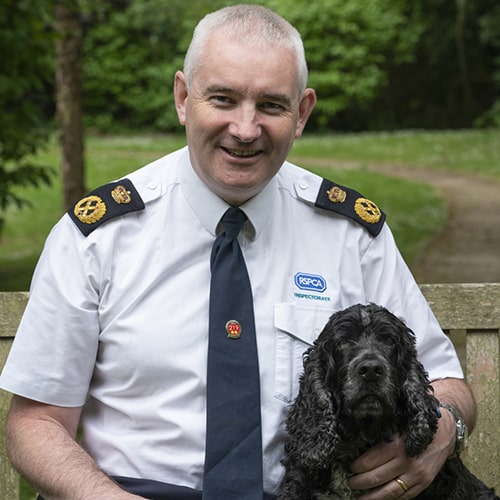 It's a vital role and a wonderful chance to play your part in an organisation that holds a very special place in the heart of all those concerned with animal welfare, both across the UK and beyond.
Dermot Murphy, Chief Inspectorate Officer
The role can be hugely rewarding in terms of making a real difference to the well-being of animals and in educating owners who care for them. However, it's also extremely demanding and specialised. It has unique challenges, many of which may be unexpected until you gain first-hand knowledge of what is required.
One of our toughest roles
Animal rescue officers are lone workers and this brings significant challenges both physically and mentally. Whilst we ensure we support our rescue workers who work alone, it's essential that they consider how they manage this way of working and are confident that they have the skills to work independently.
What's expected from an ARO
Good with people and animals
The emphasis of the job involves working with people as well as animals. Strong interpersonal skills are essential to be able to cope with pressure and some extremely emotional and stressful situations.
A physical job
The physical demands of the role are intense. At times, working at heights, on and from ladders and roofs. Animals get stuck in tight places, so it's not uncommon to work in confined areas like a cramped loft or roof spaces, to perform rescues and other duties.
The practical aspects of the work require the lifting, carrying and moving of equipment and animals. Dogs may weigh 30-40kg, but other animals that need help like sheep are more than 70kg - so it's a challenging job with high physical activity.
You'll get wet!
Occasionally, the position demands working on flat water, alongside tow-paths, sea cliffs, and from boats on tidal and flowing water.
Our AROs need to be strong swimmers, even when wearing outdoor clothing, to make sure rescues are carried out effectively. We carry out swimming assessments early in training for all successful applicants, to ensure they can carry out this area of the role.
Happy with your own company
The psychological demands are challenging. Animal Rescue Officers work alone, in unfamiliar areas night and day, and manage aggressive, confrontational and emotionally disturbing situations.
Get started in animal care
Worried you don't have enough experience working with animals or want to get a head start? Why not volunteer for one of our hands on volunteer roles.