RSPCA Summer Raffle
Help give animals a better life
Summer is here, and we're all hoping for a more normal, fun-filled season. Best of all, our exciting Summer Raffle has rolled round once again.
During these summer months we see an increase in intentional harm towards animals. With every £1 ticket you buy, not only do you increase your chance to win a whopping £10,000, you're also helping us to cancel out cruelty.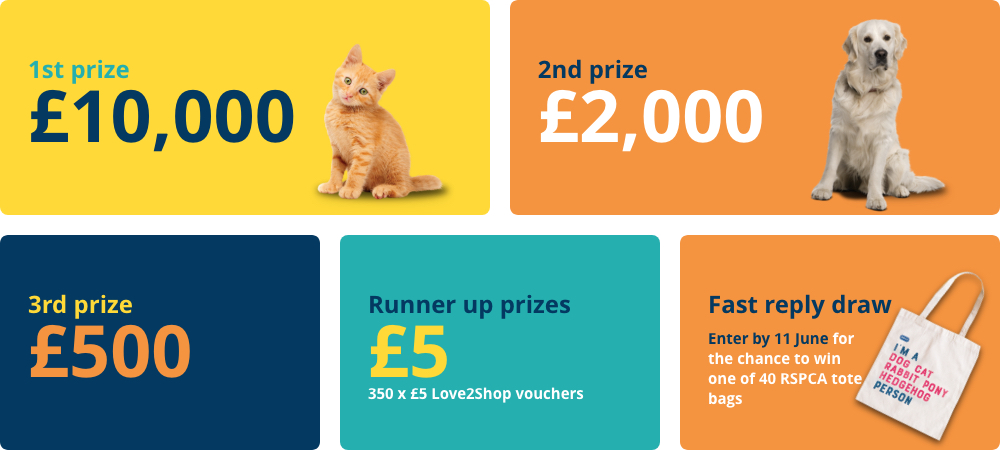 Closing date:
6 August 2021
Draw date:
13 August 2021
You could be the next big winner!
Thank you for helping save animals like Dusty
Last summer was tough for all of us - especially Dusty, an eight-week-old kitten rescued by the side of the road in Durham.
He had an injured paw which meant he struggled to walk. Thankfully, one kind passerby contacted the RSPCA.
"Dusty was lucky he was spotted when he was, as he really needed help," says RSPCA Inspector Krissy Raine, who took Dusty to the vets.
Dusty was rehomed in August and has settled in really well - another happy ending, thanks to your support!

You could be the next big winner!
£500 Third Prize Winner - Spring Raffle 2021
Mrs Powell has donated to the RSPCA for many years and always gives what she can. Mrs Powell had never won anything before and will probably be giving her winnings to the charities she supports.
The Royal Society for the Prevention of Cruelty to Animals is licensed and regulated in Great Britain by the Gambling Commission under account number 4663
Website: www.gamblingcommission.gov.uk
The RSPCA Weekly Lottery, Quarterly Superdraws and Seasonal Raffles are promoted by: RSPCA, Wilberforce Way, Southwater, Horsham, West Sussex RH13 9RS. Registered Charity Number: 219099.
Responsible Person: Garth Caswell.
In 2019 £4,187,541 was raised from ticket sales in our Weekly Lotteries, Quarterly Superdraws and seasonal Raffles, with 4.55% spent on prizes, 55.71% spent on expenses and 39.74% being used to fund the work of the RSPCA in England and Wales (based on the Lottery Submissions made by the RSPCA to the Gambling Commission, during the 2019 calendar year). This translated to a fantastic £1,664,089!
In 2019, the likelihood of winning a prize was, on average, 1 in 752 in our regular Weekly Lotteries, 1 in 804 in our Quarterly Superdraws and 1 in 243 in our seasonal Raffles.
£1 per entry. All proceeds go to RSPCA. Not to be sold to anyone under 18 years of age. Underage gambling is an offence. Full terms and conditions can be found by clicking here

If you feel you have a problem with gambling. visit www.begambleaware.org or call the Gamcare National Helpline on 0808 8020 133