Winter should be a time of care and comfort, especially for our animal friends.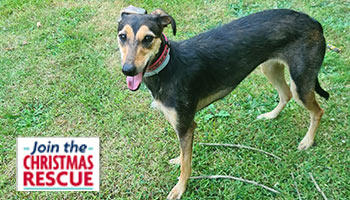 And for animals like young saluki-cross Maisie, it can be a time for miraculous recovery – all thanks to your tireless support.
Our RSPCA animal rescuers were alerted to Maisie's living conditions by a concerned member of the public. Maisie was found very cold, curled up in a dark corner of a room. She was infested with fleas and so skinny you could see all her ribs.
Our inspector rushed Maisie to a nearby veterinary practice, worried that she may not even survive the journey. She was extremely underweight and emaciated and experiencing muscle spasms as the veterinary team tried to warm her up'.
"Maisie was in a terrible state when she arrived," says the vet. "This suffering could have been avoided if she'd had regular flea treatment and good food."
After being hospitalised for more than two weeks, Maisie was taken into foster care where she went from strength to strength.
"She is happy, vibrant, loving and hilarious!" says her new owner. "She has shone through against the odds, and earned the nickname Miracle Maisie." Thanks to supporters like you, we can make more happy endings happen for animals like Maisie.